AgileSoCal Home > History of AgileSoCal Meetings
AgileSoCal Meeting History
From the present back to the very first meeting in October 2002!
Do You Deliver Value? with Dr Dave Cornelius, May 2023
Agile Fluency with Michael J. Tardiff, July 2021
Culture and Agile Transformation with Marc Danziger and Pete Turner, June 2021
The Leader Within: move from Resistance to YES with Louria Lindauer, May 2021
Scaling the Product Owner with James Lang, April 2021
Visualizing Flow with Kanban - Beyond the Basics with Van Wray, March 2021
FAST Agile with Ron Quartel, February 2021
Let's Stop Calling It an Agile "Transformation" with Ben Rodilitz, November 2020
The Power of Inceptions with Lakshmi Ramaseshan, October 2020
Software and the Art of Delivery with David Neal, August 2020
Scaling Lean Agile Metrics Across Your Software Company with Heidi Helfand and Tim Doherty, July 2020
A SAFe Skeptic's Journey with Larry Lawhead, May 2020
The Life of a Mob Programmer with Thomas Desmond, April 2020
Agile Mindset Workshop with Janet Lawrence, February 2020
Agile Metrics in Jira with Dan Moran, January 2020
Agile Transformation: A Retrospective with Duane Nicholson, November 2019
What your Scrum Master Didn't Tell You About Agile with Michael Wollin, October 2019
Enterprise Agile Transformation at Pacific Life with Maureen Bowen, Regina Keil, and Wendy Urbanek, September 2019
Elevate security conversations with the Elevation of Privilege Card Game with William Getz, August 2019
Fostering the Emergent Developer with Cody Fletcher, July 2019
The Invisible Leader with Elena Astilleros, June 2019
Journey from Chaos to Harmony with Hadi Tajvar, May 2019
Agile Ramp-up Strategies for Developers and their Teams with Ian Carroll, April 2019
Plotting Your Agile Journey with Paul Moore, March 2019
Driving Teams Where the Rubber Meets the Roadmap with Steve Dempsen
Design Sprint 101 and Lightning Decision workshop with Jason LaManque, January 2019
Test-First From Product Management to DevOps with Al Shalloway, November 2018
Agile HR: Lessons Learned from the Wizard of Oz with Ben Rodilitz, October 2018
Future of Testing & Quality in Agile Teams with Joel Montvelisky, October 2018
What Is An Estimate - with Woody Zuill, September 2018
Agile Conversations - Introduction to Nonviolent Communication with Lorraine Aguilar, August 2018
Coaching Heuristics - What's In Your Toolbox? with Vic Bonacci, July 2018
Scrum vs Kanban - How Does An Agile Team Choose? with Brett Palmer, June 2018
How To Build Team Safety: Your Organization's Secret Superpower, Harald Koebler, May 2018
Thinking Innovation, Dr. Dave Cornelius, April 2018
Using Large-Scale Scrum (LeSS) for Organizational Transformation Success, Brett Palmer, Scott Dunn, Mike Winston, March 2018
More or LeSS? The Road to the Agile Enterprise, Craig D. Wilson, February 2018
Six Trumps: The Brain Science that Makes Training Stick, Vic Bonacci, January 2018
A Lightweight Framework for Agile at Mid-Scale, Al Shalloway, November 2017
Agile Leadership for Self-Managing Teams, Kate Megaw, October 2017
Group Glue, Jeff Cook, September 2017
Why Bother Estimating, Dave Moore, August 2017
Agile, Complexity and the Cynefin Lego Game, Vic Bonacci, July 2017
Actionable Agile Metrics - Dan Vacanti, June 2017 (PDF 1.75 MB)
Business Agile Principles, Keith Montgomery, May 2017
Agile Thinking, Phyllis Marbach, April 2017
Agile Coaching, Brett Palmer, March 2017
Outputs versus Outcomes, Ben Rodilitz, January 2017
Agile v. Agility: The Problem of Management - Marc Danziger, November 2016 (PDF 3.2 MB)
Agile, Systems, and the Deception of Training - Zach Bonaker, October 2016 (PDF 2.3 MB)
How Culture Threatens Agile: The 7 Deadly Dysfunctions of Organizations & How to Fix - Aparna Suresh, September 2016 (PDF - 110 KB)
Managing For Happiness, Jurgen Apello, August 2016
Transforming Your Leadership Character: The Lean Thinking and Agility Way, Dr. Dave Cornelius, July 2016 Link to session audio
The Fearless Agile Human Edge, Valerie Nash, Raman Sivasankar, and Colleen Kirtland, June 2016
Deadlines, Dave Moore, May 2016
Unit Testing Makes Me Faster: Convincing Your Boss, Your Co-Workers, and Yourself, Jeremy Clark, April 2016
Emergent Architecture, Just Enough Just In Time, Mike Vincent, March 2016 (PDF-2MB)
DevOps, It's a People Problem AND a Technical Problem, Steve Ropa, February 2016
Why We Play, Paul Wynia, January 2016 (PDF - 700 KB)
Pair Coaching, Vic Bonacci, November 2015
Ben Rodilitz - Year 2 Retrospective: Scaling Scrum, October 2015 (PDF - 1.2MB)
Product Visioning in the Agile World, Aparna Suresh, September 2015 (PDF - 375 KB).
The State of Agile 2015: An Industry Report, Steve Ropa, August 2015
Make Flowers! A Story-point Estimation Game, Suma Kumar, July 2015
The Agile Manifesto in the Star Wars Universe, Aaron Griffith, June 2015
WATCH the Board, Steve Dempsen, May 2015
User Stories vs. Use Cases, Tony Bresse, April 2015
Building Resilient Software Integrations, Dave Moore, March 2015
Cloud-based Developer Environments, Lynn Langit, February 2015
Joe Dailey, Maximizing Portfolio Management using Lean Principles, January 2015
Fifth Annual AgileSoCal Holiday Bash!, December 2014
Dr. Dave Cornelius, What is Agile Doing for You? Evaluating the Value of Scrum to Organizations, November 2014
Ben Rodilitz, A Company's Transformation to Agile: 1-year Retrospective, October 2014 (PDF - 2MB)
Victor Bonacci, Brewing Up Some Lean Coffee: A Collaborative Workshop, September 2014
Paul Hodgetts, Tell Me a Story About That... A User Story Writing Workshop, August 2014
Brent Chalker, The Impact of Agile Quantified, July 2014
Roger Brown, The Agile Coaching Profession, June 2014
Chris Waggoner, Exploit Core Scrum Practices at the Program Level, May 2014
David Brown, The Value of Story Mapping, April 2014
Jon Jorgensen, A Spoon Full of Scrum, March 2014
Scott Dunn, Agile Leader Storyline, February 2014
Woody Zuill, Mob Programming, January 2014
Fourth Annual AgileSoCal Holiday Bash!, December 2013
Kate Megaw & John Miller, Values-Driven Metrics for Agile Teams, November 2013
Llewellyn Falco, Hands-on Workshop for Better Unit Testing, October 2013
Johanna Rothmann, Agile Teams and Collaboration, October 2013
Jim Elvidge, The Power of Intuition, August 2013
Paul Hodgetts & Paul Moore, Retrospective workshop, July 2013
Brent Chalker, SAFe - the Scaled Agile Framework, June 2013
John Ryan, Agile Documentation Through Specification by Example, May 2013
Steve Dempsen, Winning the Agile-Waterfall Impedance Mismatch, April 2013
Alline Watkins, User-Driven Development & The Lean Enterprise, March 2013
George Schlitz, Agile Beyond the Teams, February 2013
Alan Dayley, The Product Owner Role: Have Fun With It, January 2013
Third Annual AgileSoCal Holiday Bash!, December 2012
David Brown, First American's Agile Transition, November 2012
Rachele Maurer, Business Analysts & Agile Project Management, October 2012
Paul Moore & John Ryan, Agile Programmer Fishbowl, September 2012
Brant Cooper & Patrick Vlaskovits, The Permanent Tomorrow (Lean Entrepeneur), August 2012
Paul Hodgetts & Paul Moore, Game-A-Palooza, July 2012
Scott Downey, Scrum Metrics for Hyper-Productive Teams, June 2012
Scott Smith, Cucumber/BDD, May 2012
Steve Dempsen, ScrumBan, April 2012
Llewellyn Falco, Intentional Code, March 2012
Woody Zuill, Agile Success, February 2012
Jim Elvidge, Dare To Challenge, January 2012
Second Annual AgileSoCal Holiday Bash!, December 2011
Paul Hodgetts & Paul Moore, Hands-On Kanban Quick Start Workshop, November 2011
Jim McCarthy, A Golden Era of Technological Culture?, October 2011
Craig Jones, Simplicity Appreciation 101, September 2011
Scott Dunn, Accelerating Your Success by Discovering Your Strengths, August 2011
Skip Angel, What Are We Supposed to Do with These Managers NOW? July 2011
John Ryan, Managing Technical Debt, June 2011
Jim Benson, The Three C's: Continuous Improvement, Collaboration and Communication, May 2011
Michele Sliger, Does the Project Manager Have a Future in Agile?, April 2011
Paul Hodgetts, Implementing Kanban Systems, March 2011
Jez Humble, Continuous Delivery, February 2011
Mike Cohn, Self-Organizing Teams, January 2011
First Annual AgileSoCal Holiday Bash!, December 2010
Travis Morgan, Agile at Taco Bell, December 2010
Llewellyn Falco, Top 10 Unit Testing Mistakes, November 2010
Darrin Ladd, Effective Retrospectives, October 2010
Sean Buck, Enterprise Adoption Experience Report, Sept 2010
Paul Hodgetts, Story Mapping Workshop, August 2010
Alan Shalloway, Tuning Scrum with Lean Thinking, July 2010
Tobias Mayer, A Collaboration Exploration, June 2010
George Schlitz, Agile Planning, May 2010
Llewellyn Falco & Woody Zuill, Coding Dojo, April 2010
Amr Elssamadisy, Crafting an Agile Adoption Strategy, March 2010
Giora Morein, Distributed Agile, February 2010
Paul Hodgetts, Strategies for Agile Architecture, January 2010
Paul Hodgetts & Paul Moore, The XP Game, November 2009
Lisa Crispin, 7 Key Factors for Agile Testing Success, October 2009
Adam Sroka, Feedback in Agile, Sept 2009
George Schlitz, Mapping the Enablement Battlefield, August 2009
Paul Hodgetts, Agile Planning Workshop, July 2009
Llewellyn Falco & Woody Zuill, Code Excellence for the Average Programmer, June 2009
Grig Gheorghiu, Automated Testing Techniques and Tools, May 2009
Clinton Keith, Agile Game Development, April 2009
Paul Hodgetts, User Story Writing Workshop, March 2009
George Schlitz, Agile Project Execution, February 2009
Paul Hodgetts, Comparing Agile Processes and How They Work, January 2009
Paul Hodgetts & Paul Moore, The XP Game, December 2008
Susan Elliott Sim, User Stories, January 2007
Michael Feathers, Working Effectively with Legacy Code, January 2006
Micah Martin, FitNesse Acceptance Testing Framework, November 2004
Paul Hodgetts, Agile Project Management, August 2004
Phlip Plumlee, Test First User Interfaces, July 2004
Mary Poppendieck, Lean Thinking for Software Development, October 2003
Linda Rising, Introducing New Ideas into Organizations, October 2003
Paul Hodgetts, The Agile Customer's Toolkit, August 2003
Jeff McKenna/Denise Phillips, Agile Development Conference Report, July 2003
Joseph Beckenbach, The XP Tester Role, June 2003
Jeff McKenna, What Should Students Know About Agile Development?, April 2003
Ken Schwaber, The Skeleton and Heart of Agile Processes, March 2003
Jeff McKenna, The Introduction of Agile Techniques into Organizations, January 2003
Robert C. Martin ("Uncle Bob"), Agile Software Development: Principles, Patterns, and Practices, November 2002
Ken Schwaber, Scrum / The Agile Alliance, October 2002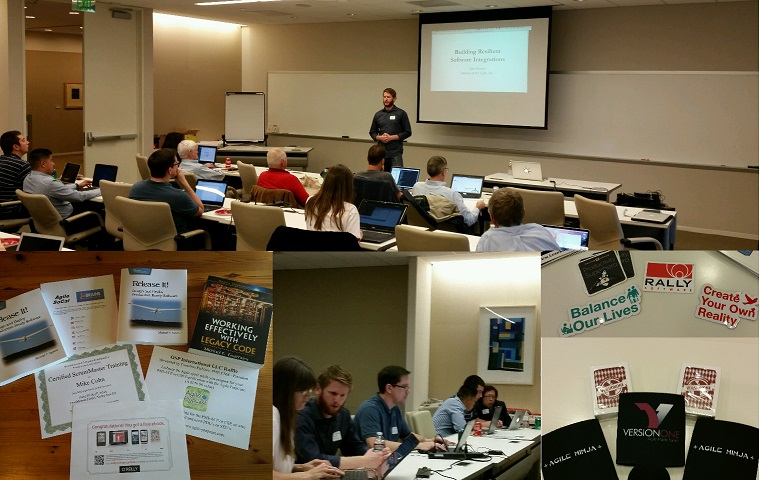 Wednesday, March 19, 2015 - Building Resilient Software Integrations: Dave Moore, 8th Light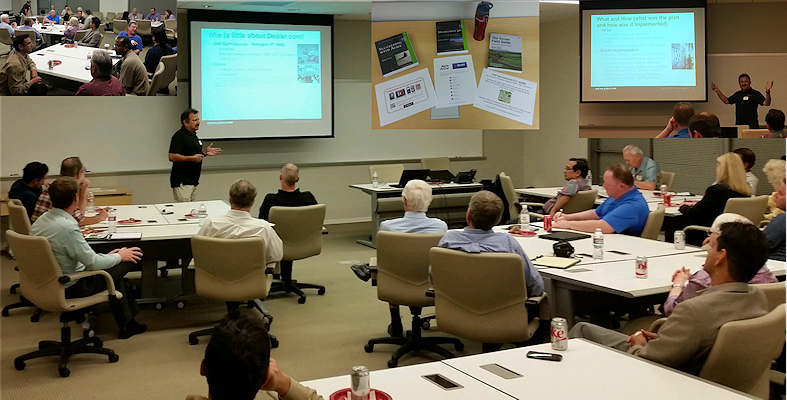 Wednesday, October 15, 2014 - A Company's Transformation to Agile: 1-year Retrospective, Ben Rodilitz, Dealer.com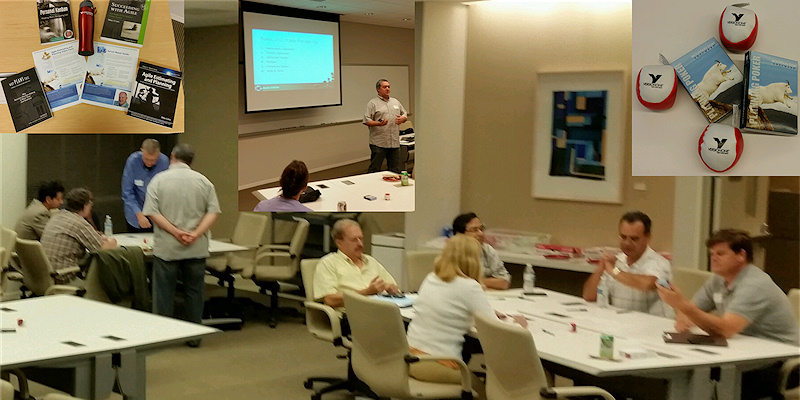 Wednesday, September 24, 2014 - Brewing Up Some Lean Coffee: A Collaborative Workshop, Victor Bonacci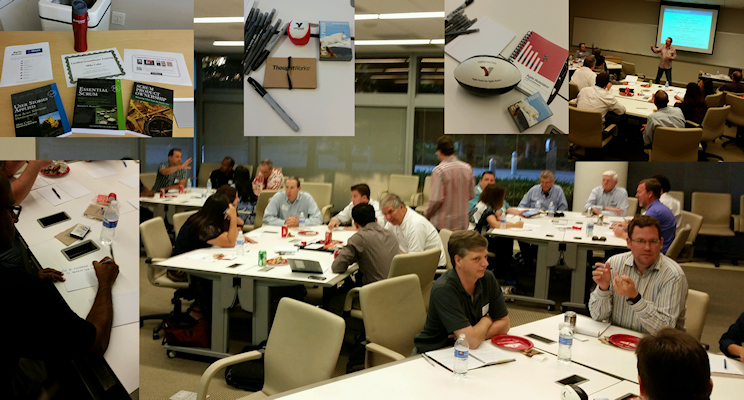 Wednesday, August 27, 2014 - Tell Me a Story About That... A User Story Writing Workshop, Paul Hodgetts, Agile Logic
Click here to download the slides from this presentation (PDF - 382 KB).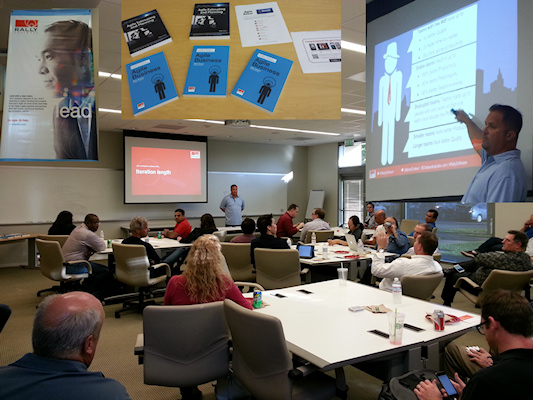 Wednesday, July 16, 2014 - The Impact of Agile Quantified - Brent Chalker, Rally Software
Click here to download the slides from this presentation (PDF - 3.5 MB).
Links to whitepapers and videos:
Seven Deadly Sins
SDPI Methods
Impact of SDPI
Youtube Videos of SDPI Metrics (5 videos)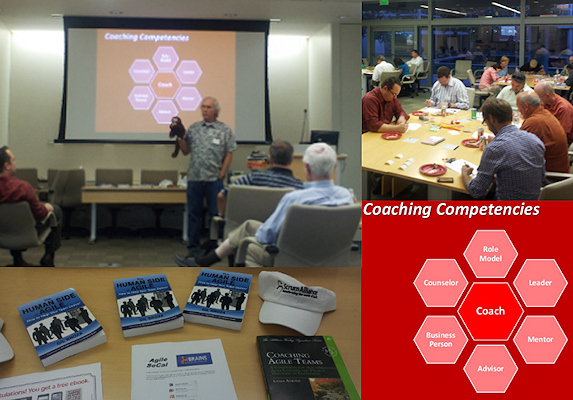 Wednesday, June 18, 2014 - The Agile Coaching Profession - Roger Brown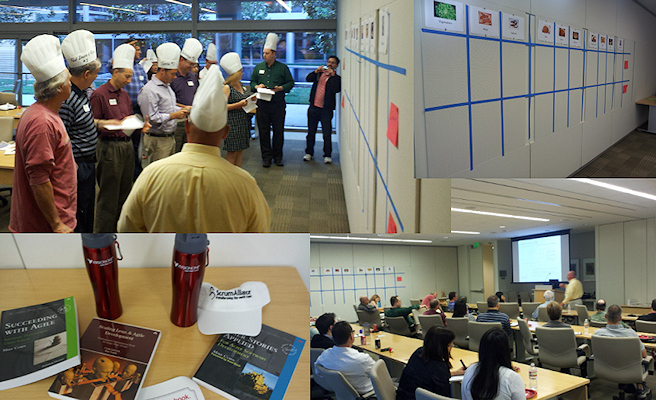 Wednesday, May 28, 2014 - Program Level Scrum Practices - Chris Waggoner

Wednesday, April 16, 2014 - The Value of Story Mapping - David Brown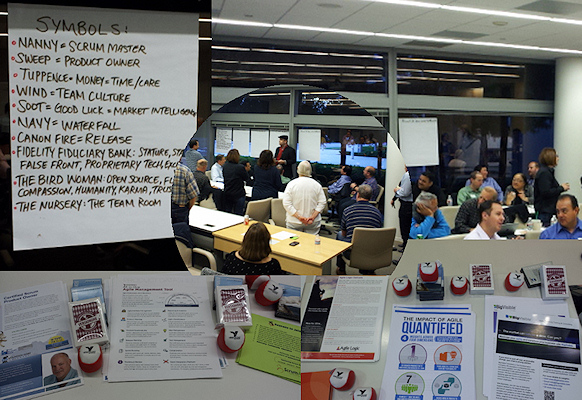 Wednesday, March 26, 2014 - A Spoon Full of Scrum - Jon Jorgensen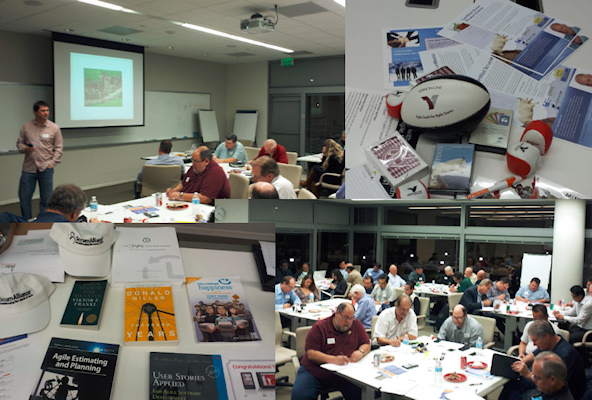 Thursday, February 20, 2014 - Agile Leader Storyline - Scott Dunn

Wednesday, January 22, 2014- Mob Programming - Woody Zuill & Friends
The 2013 AgileSoCal Holiday Bash on Wednesday, December 11, 2013 was an amazing event. You can check out photos and more by clicking here.
AgileSoCal is your community for all things agile. Find us:
On our website at www.agilesocal.com (You are here!)
On Linked-In (group name "AgileSoCal") at www.linkedin.com/groups?gid=1833155
On Yahoo! Groups (group name "xpsocal") at tech.groups.yahoo.com/group/xpsocal/
On Twitter (timeline name "agilesocal") at twitter.com/agilesocal