AgileSoCal Monthly Meeting - Wednesday, June 22 20, 6:00 PM
The fearless Agile Human Edge
with Valerie Nash, Raman Sivasankar, and Collen Kirtland
When: Wednesday, June 22nd
Networking and food, 6:00 PM.
Activities start, 6:30 PM.

***** Always free, but YOU MUST RSVP to agilesocal@gmail.com *****
Improving measurable economies of scale is an art as much as it is a science. IT teams have been pressured like never before to change. With outsourcing now commonplace, it is essential to realize that the bar for value added IT services has been significantly raised. In this session, please join the Pacific Life QA team as they share with you the nuts and bolts of getting more done through Agility than ever imagined with a fixed headcount. Above all else, it's essential to manage talent with a constant focus on blending different team strengths to make a bold statement about the transformative value IT can bring to the table.
Your Presenters:
Valerie Nash has spent most of her working career at Pacific Life. She is currently a QA Lead in the RSD IT Division at Pacific Life. She plays an important role leading many of the QA transformation initiatives centered on moving the team from Quality Control centric to Quality Assurance focused. This role could not be more fitting, as she believes in embracing changes personally, as well as professionally. Change opens up many opportunities, strengthens inner growth, and empowerment. With Valerie's ability to rally troops keeping up a positive attitude in the face of any challenges, she is dedicated and excited to be part of this huge endeavor to see it all the way through to adoption!
Raman Sivasankar is an active proponent of Automation Processes and QA Metrics. With nearly 13 years of experience, Raman's domain knowledge spans across various industries from Mortgage, Banking, Payroll, Mutual Funds and Insurance. Apart from his business domain knowledge, Raman has used his expertise and full system development lifecycle experience to build solid and foolproof Automation Frameworks using latest technologies. Currently working with Pacific Life, he is excited to be part of a very talented QA team that is undergoing transformation and is optimistic that the changes will eventually position the team to be recognized as a QA leader in the Insurance/Annuities space.
Industry veteran
Colleen Kirtland
is passionate about QA and the role of technology in helping to effect positive social change. As an evangelist of proven QA practices, Colleen above all else enjoys helping people grow to their highest potential. You'll find Colleen working across the teams to influence Business Process, Application Development, Infrastructure and Architecture, building Quality in from the get go. She currently works as QA Director for Pacific Life. Every day, Colleen is motivated by the people she works with and the opportunities for innovation together with her colleagues. You can reach her on Twitter
@cskirtland

Where: The Capital Group Companies
6455 Irvine Center Drive (Yosemite Building, 1st floor)
Irvine, CA 92618
Exit the 5 or 405 at Sand Canyon.
From the 5, go south to Irvine Center and turn right.
From the 405, go north to Irvine Center and turn left.
Take the first right into the main parking lot at Capital Group.
Park (no permit needed), go to the main entrance, look for the signs.

Thanks to Capital Group (www.thecapitalgroup.com) for the meeting facilities.
Thanks to VersionOne (www.versionone.com) for food and free agile stuff.
Thanks to Mike Cohn (www.mountaingoatsoftware.com) for agile e-courses, agile books and stuff.
Thanks to JetBrains (www.jetbrains.com) for free tool licenses.
Thanks to O'Reilly (www.oreilly.com) for free e-books.

To be eligible for the drawing for free books and agile stuff YOU MUST RSVP to agilesocal@gmail.com 24 hours prior to the meeting and be present to win.

AgileSoCal is your community for all things agile. Find us:
On our website at www.agilesocal.com (You are here!)
On Linked-In at "AgileSoCal"
On Yahoo! Groups at "xpsocal"
On Twitter @AgileSoCal
---
Thanks to our ongoing sponsors:
---
Upcoming 2016 AgileSoCal Meetings
Meetings are usually held on the third Wednesday of each month. But not always, and dates may change, so watch for the announcements.
June 22 - The Fearless Agile Human Edge - Valerie Nash, Raman Sivasankar, & Colleen Kirtland [Note: this is the 4th Wednesday!]
July 20 - Transforming Your Leadership Character: The Lean Thinking and Agility Way - Dave Cornelius
August 29 - Managing for Happiness - Jurgen Appelo [Note: this is a Monday night meeting!]
September 21 - How Culture Threatens Agile: The 7 Deadly Dysfunctions of Organizations & How to Fix Them - Aparna Suresh
October 19 -
November 9 - Vanessa Shaw - Human Side of Tech [Note: this is the 2nd Wednesday!]
December - no meeting, Happy Holidays!
All meeting start with food & networking at 6:00 PM, presentation starts at 6:30 PM, raffle follows the presentation.
Would you like to speak at AgileSoCal? Or do you know someone you'd like to see? Email us at agilesocal@gmail.com.
---
Past Meetings & Events
Click here for a full history of all AgileSoCal meetings.
Here's a sample from past AgileSoCal meetings. Our meetings feature experienced agilistas and cutting-edge topics, and are highly interactive and engaging. Come join us at a future meeting!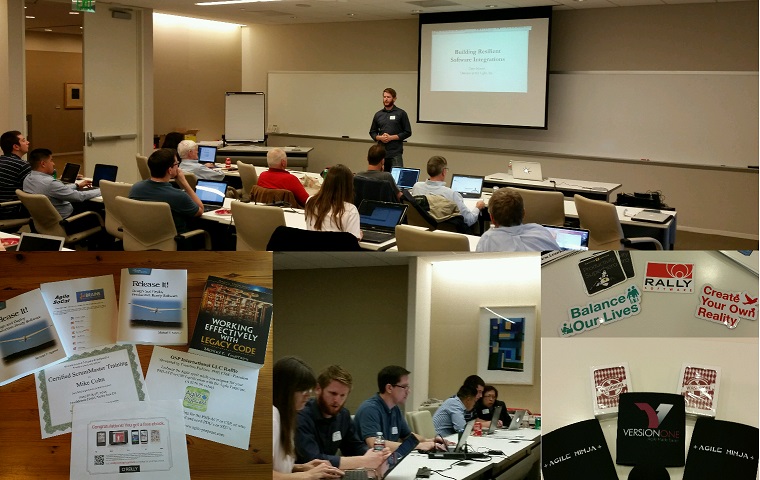 Wednesday, March 19, 2015 - Building Resilient Software Integrations: Dave Moore, 8th Light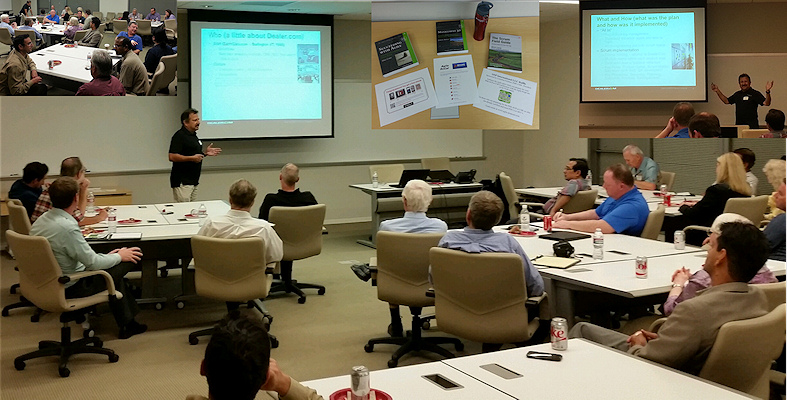 Wednesday, October 15, 2014 - A Company's Transformation to Agile: 1-year Retrospective, Ben Rodilitz, Dealer.com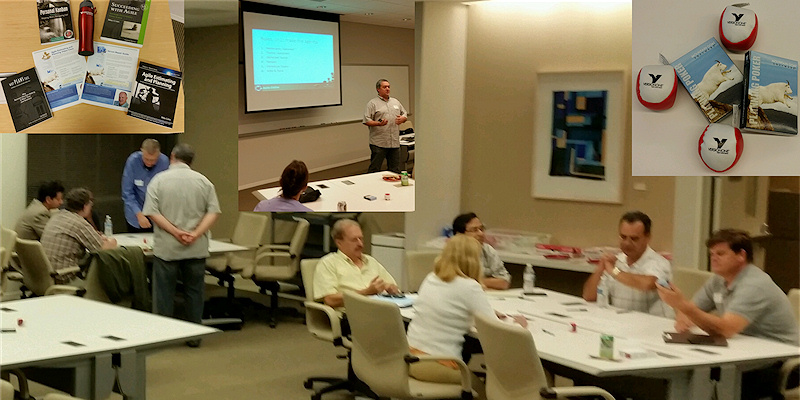 Wednesday, September 24, 2014 - Brewing Up Some Lean Coffee: A Collaborative Workshop, Victor Bonacci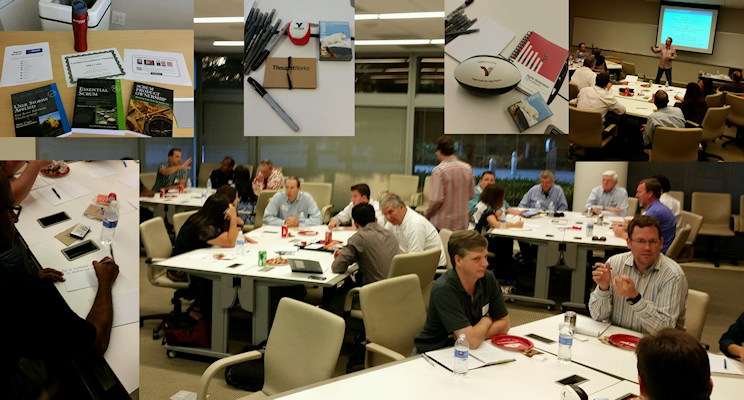 Wednesday, August 27, 2014 - Tell Me a Story About That... A User Story Writing Workshop, Paul Hodgetts, Agile Logic
Click here to download the slides from this presentation (PDF - 382 KB).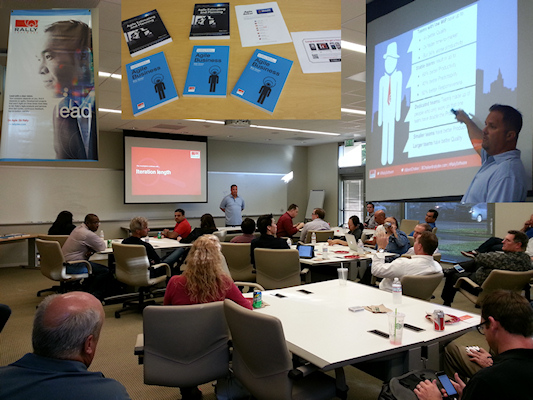 Wednesday, July 16, 2014 - The Impact of Agile Quantified - Brent Chalker, Rally Software
Click here to download the slides from this presentation (PDF - 3.5 MB).
Links to whitepapers and videos:
Seven Deadly Sins
SDPI Methods
Impact of SDPI
Youtube Videos of SDPI Metrics (5 videos)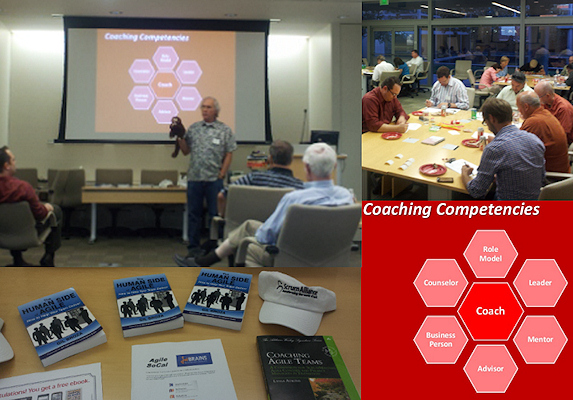 Wednesday, June 18, 2014 - The Agile Coaching Profession - Roger Brown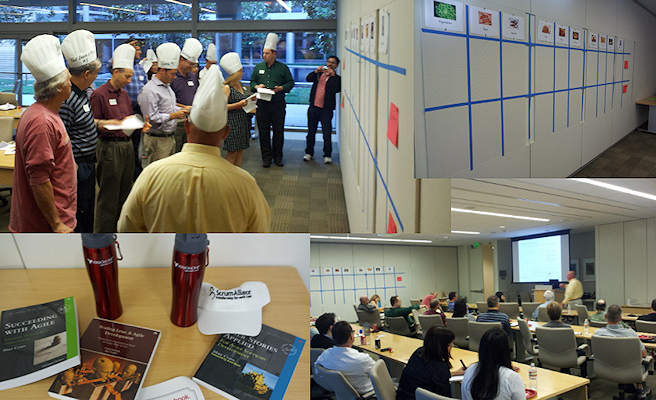 Wednesday, May 28, 2014 - Program Level Scrum Practices - Chris Waggoner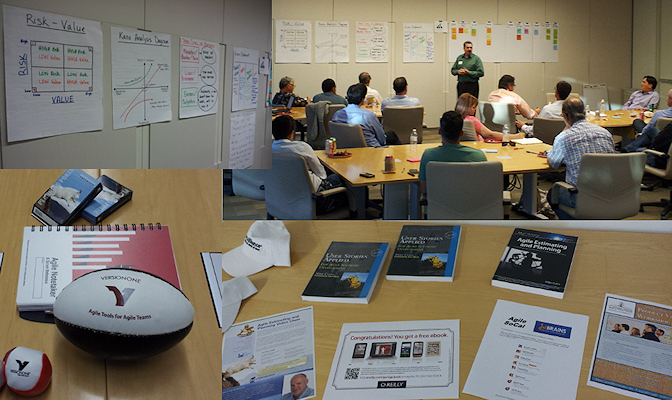 Wednesday, April 16, 2014 - The Value of Story Mapping - David Brown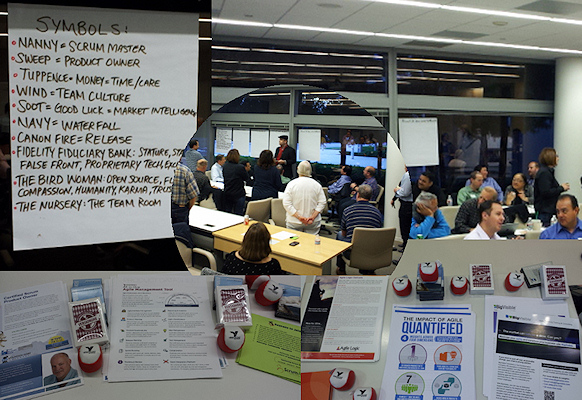 Wednesday, March 26, 2014 - A Spoon Full of Scrum - Jon Jorgensen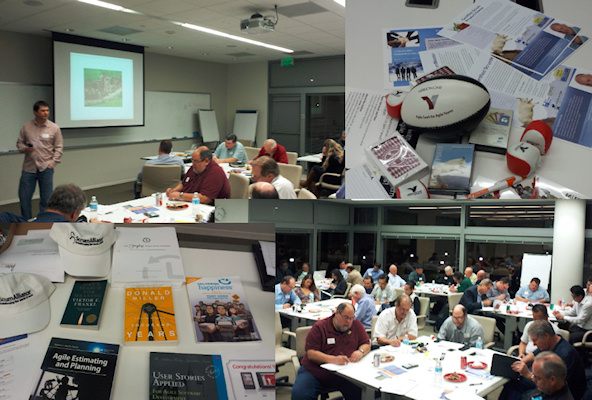 Thursday, February 20, 2014 - Agile Leader Storyline - Scott Dunn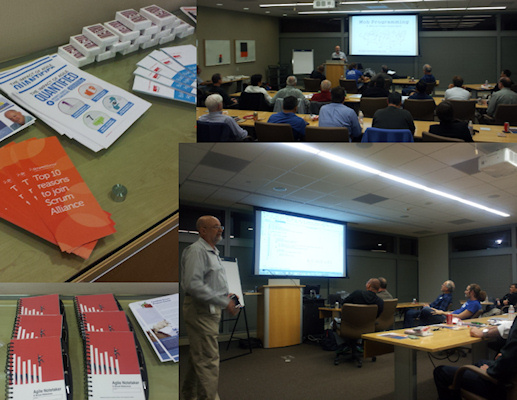 Wednesday, January 22, 2014- Mob Programming - Woody Zuill & Friends
The 2013 AgileSoCal Holiday Bash on Wednesday, December 11, 2013 was an amazing event. You can check out photos and more by clicking here.
Click here for a full history of all AgileSoCal meetings.
---
Upcoming Agile Events Calendar
So Cal Local Agile Events Calendar
Tuesday, June 28, 7:00 pm
Extreme Roundtable
Location: Santa Monica (Pivotal Labs)
More info: http://www.meetup.com/xp-los-angeles/
Wednesday, June 29, 6:30 pm
Open Source Pairing
Location: Los Angeles (downtown)
More info: http://www.meetup.com/la-fullstack/
Monday, July 11, 6:00 pm
Agile Coffee Happy Hour
Location: San Diego
More info: http://www.meetup.com/Agile-Coffee-San-Diego/
Tuesday, July 12, 7:00 pm
Pair Exchange
Location: Santa Monica (Pivotal Labs)
More info: http://www.meetup.com/xp-los-angeles/
Wednesday, July 13, 6:30 pm
Open Source Pairing
Location: Los Angeles (downtown)
More info: http://www.meetup.com/la-fullstack/
Tuesday, July 19, 6:30 pm
Agile Coaching Exchange
Location: Pasadena
More info: http://www.meetup.com/ACE-Agile-Coaching-Exchange-SoCal/
Tuesday, July 26, 7:00 pm
Extreme Programming Roundtable
Location: Santa Monica (Pivotal Labs)
More info: http://www.meetup.com/xp-los-angeles/
Thursday-Friday, September 15-16
Agile Open SoCal
Location: Irvine (UCI)
More info: http://www.agileopencalifornia.com/

Also watch for OC Product Managers, PDMA, PMI OC & LA, SCQAA-OC, Java/.NET user groups, LA Agile Meetup & other MeetUps, etc. to be announced…
Regional & National Agile Events Calendar
June 17
Scrum Day San Diego
Location: San Diego
More info: https://scrumdaysandiego.com

July 25-29
Agile2016
Location: Atlanta, GA
More info: https://www.agilealliance.org/

September 10
PMI-OC Conference
Location: Anaheim, CA
More info: http://www.pmi-oc.org/conference

Friday, September 30
Scrum Palooza
Location: Los Angeles (Skirball Center)
More info: https://www.eventbrite.com

October 2-7
StarWest conference
Location: Anaheim, CA
More info: https://starwest.techwell.com/

October 6-7
Agile Open California
Location: Berkeley, CA
More info: http://agileopencalifornia.com/

October 22
Global Day of Code Retreat
Location: Worldwide
More info: http://coderetreat.org/