AgileSoCal Monthly Meeting - Wednesday, March 18th, 6:00 PM
(Back to the 3rd Wednesday!)
Building Resilient Software Integrations

Dave Moore
Modern software is increasingly composed of pieces of software talking to each other. Some under your control and some not. The complexity of all the interactions complicates building, testing, and debugging - even when all the components are yours.
Join us at our March meeting on Wednesday, March 18th, where Dave Moore leads us in a hands-on session exploring how to best manage these interactions and maintain fast feedback during development.
When: Wednesday, March 18th <-- Back to the 3rd Wednesday!
Networking and food, 6:00 PM.
Activities start, 6:30 PM.

***** Always free, but YOU MUST RSVP to agilesocal@gmail.com !!! *****
Building Resilient Software Integrations
Many of today's software bugs occur when two software applications are integrated with one another and unexpected behavior in one application causes issues in the other. This session will teach you how to build integration points that are resilient to these types of situations. You will get practical experience on failing gracefully when a dependent application isn't acting as it should.

You should bring a laptop in order to participate in this hands-on session. Proficiency in any modern computing language is sufficient - we'll be writing code that sends and receives http calls.

Your Presenter:
As Director of Software Services, Dave Moore serves as the lead project manager for every client at 8th Light's Los Angeles office. He holds extensive meetings with clients, and develops plans to translate their ideas into concrete, deliverable software that accomplishes their goals. He bootstraps each new project, and helps coordinate and prioritize the team's workflow.

Where: The Capital Group Companies
6455 Irvine Center Drive (Yosemite Building, 1st floor)
Irvine, CA 92618
Exit the 5 or 405 at Sand Canyon.
From the 5, go south to Irvine Center and turn right.
From the 405, go north to Irvine Center and turn left.
Take the first right into the main parking lot at Capital Group.
Park (no permit needed), go to the main entrance, look for the signs.

Thanks to Capital Group (www.thecapitalgroup.com) for the meeting facilities.
Thanks to VersionOne (www.versionone.com) for food and free agile stuff.
Thanks to SolutionsIQ (www.solutionsiq.com) for sponsoring our educational program.
Thanks to Mike Cohn (www.mountaingoatsoftware.com) for agile e-courses, agile books and stuff.
Thanks to OSP International (www.agile-prepcast.com) for free The Agile PrepCast registration.
Thanks to Rally Software (www.rallydev.com) for free agile stuff.
Thanks to Conscires Agile Practices (www.conscires.com) for sponsoring the Bash.
Thanks to JetBrains (www.jetbrains.com) for free tool licenses.
Thanks to O'Reilly (www.oreilly.com) for free e-books.

To be eligible for the drawing for free books and agile stuff YOU MUST RSVP to agilesocal@gmail.com 24 hours prior to the meeting and be present to win.

AgileSoCal is your community for all things agile. Find us:
On our website at www.agilesocal.com (You are here!)
On Linked-In (group name "AgileSoCal") at www.linkedin.com/groups?gid=1833155
On Yahoo! Groups (group name "xpsocal") at tech.groups.yahoo.com/group/xpsocal/
On Twitter (timeline name "agilesocal") at twitter.com/agilesocal
---
Thanks to our ongoing sponsors:
---
Upcoming 2015 AgileSoCal Meetings
Meetings are usually held on the third Wednesday of each month. But not always, and dates may change, so watch for the announcements.
Wednesday, March 18 - Building Resilient Software Integrations, Dave Moore
Wednesday, April 15 - TBD
Wednesday, May 20 - TBD
Wednesday, June 17 - TBD
Wednesday, July 15 - TBD
Wednesday, August 19 - TBD
Wednesday, September 16 - TBD
Wednesday, October 21 - TBD
Wednesday, November 11 - TBD <- Note the second Wednesday to avoid the holiday!
Wednesday, December 9 - The Sixth Annual AgileSoCal Holiday Bash!
All meeting start with food & networking at 6:00 PM, presentation starts at 6:30 PM, raffle follows the presentation.
Would you like to speak at AgileSoCal? Or do you know someone you'd like to see? Email us at agilesocal@gmail.com .
---
Past Meetings & Events
Here's a sample from past AgileSoCal meetings. Our meetings feature experienced agilistas and cutting-edge topics, and are highly interactive and engaging. Come join us at a future meeting!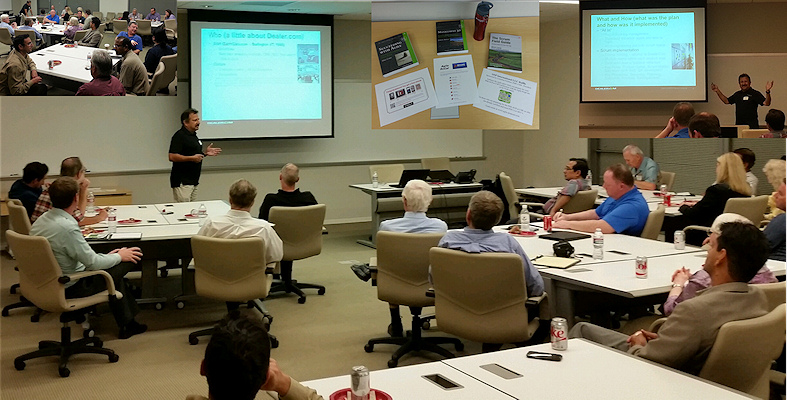 Wednesday, October 15, 2014 - A Company's Transformation to Agile: 1-year Retrospective, Ben Rodilitz, Dealer.com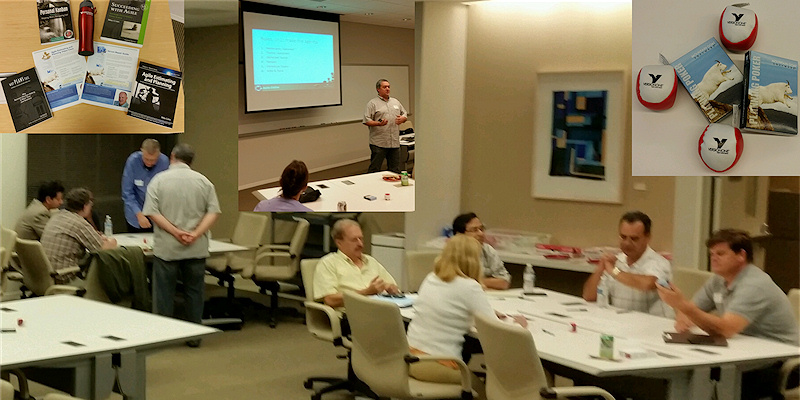 Wednesday, September 24, 2014 - Brewing Up Some Lean Coffee: A Collaborative Workshop, Victor Bonacci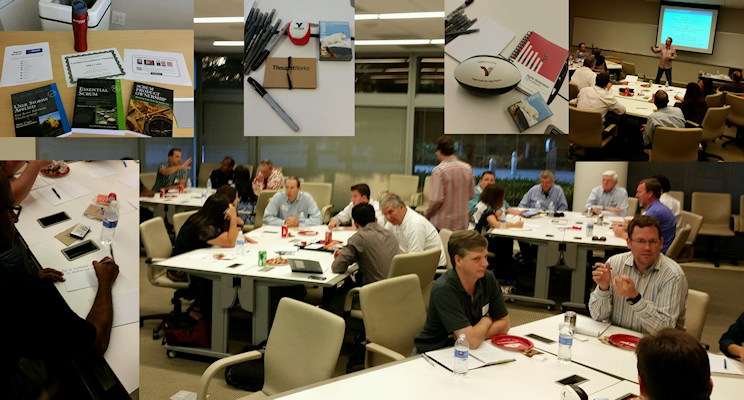 Wednesday, August 27, 2014 - Tell Me a Story About That... A User Story Writing Workshop, Paul Hodgetts, Agile Logic
Click here to download the slides from this presentation (PDF - 382 KB).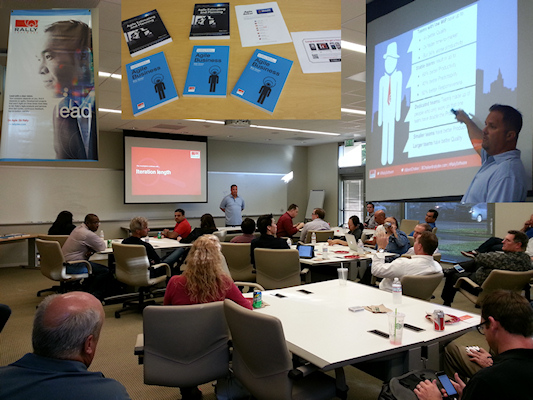 Wednesday, July 16, 2014 - The Impact of Agile Quantified - Brent Chalker, Rally Software
Click here to download the slides from this presentation (PDF - 3.5 MB).
Links to whitepapers and videos:
Seven Deadly Sins
SDPI Methods
Impact of SDPI
Youtube Videos of SDPI Metrics (5 videos)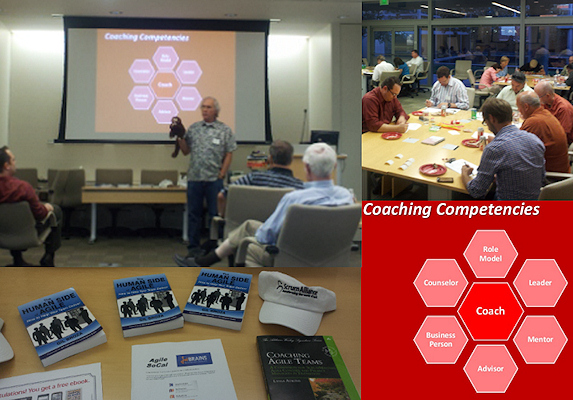 Wednesday, June 18, 2014 - The Agile Coaching Profession - Roger Brown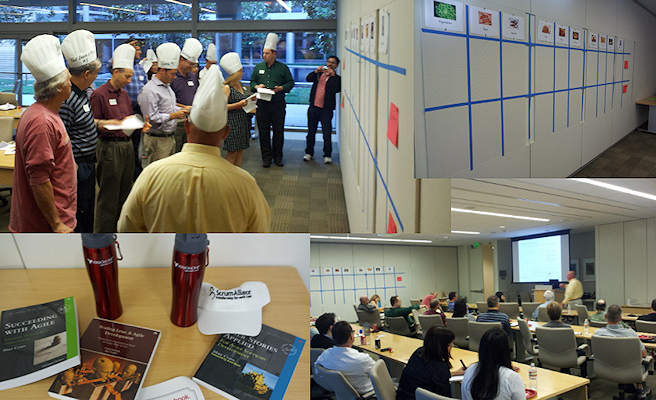 Wednesday, May 28, 2014 - Program Level Scrum Practices - Chris Waggoner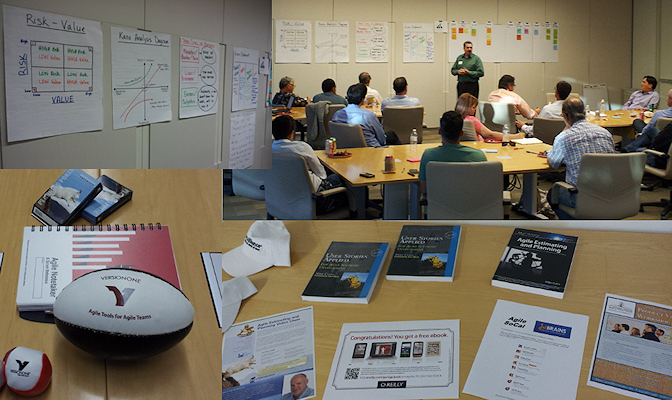 Wednesday, April 16, 2014 - The Value of Story Mapping - David Brown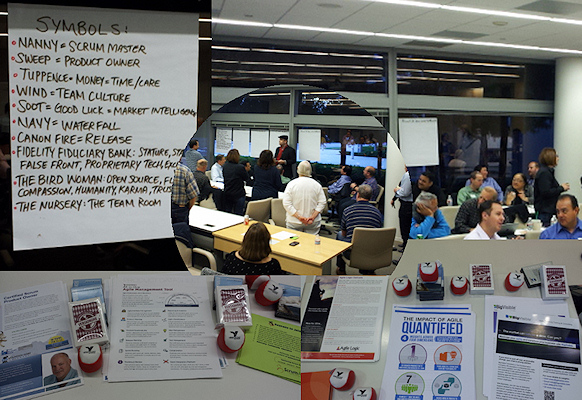 Wednesday, March 26, 2014 - A Spoon Full of Scrum - Jon Jorgensen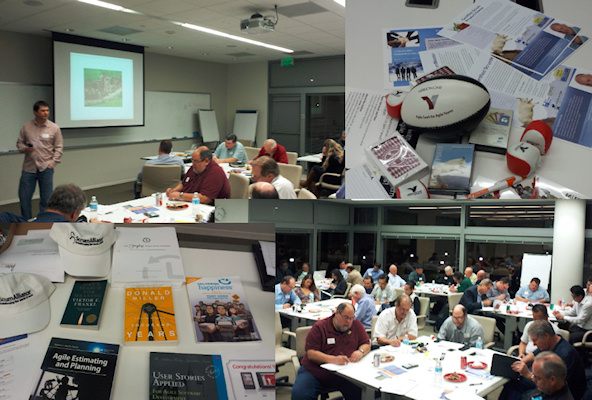 Thursday, February 20, 2014 - Agile Leader Storyline - Scott Dunn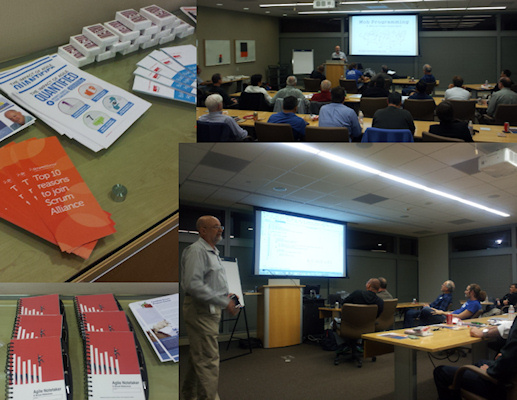 Wednesday, January 22, 2014- Mob Programming - Woody Zuill & Friends
The 2013 AgileSoCal Holiday Bash on Wednesday, December 11, 2013 was an amazing event. You can check out photos and more by clicking here.
Click here for a full history of all AgileSoCal meetings.
---
Upcoming Agile Events Calendar
So Cal Local Agile Events Calendar
Friday, March 13, 8:30 AM-5:30 PM
Scrum Day Orange County
Location: Fairfield Inn & Suites, Tustin
More Info: http://scrumdayoc.com
Friday-Sunday, April 10-12 (registration opens Saturday, December 6, 2014)
Agile Coach Camp US West
Location: Irvine Ranch Outdoor Education Center, Orange
More Info: http://www.agilegathering.com
Monday, June 15, 9:00 AM-5:00 PM
Scrum Day San Diego
Location: Marina Village Conference Center, San Diego
More Info: http://scrumdaysandiego.com
Also watch for OC Product Managers, PDMA, PMI OC & LA, SCQAA-OC, Java/.NET user groups, LA Agile Meetup & other MeetUps, etc. to be announced…
Regional & National Agile Events Calendar
Friday, April 3
Mile High Agile
Location: Hyatt Regency, Denver, CO
More Info: http://milehighagile2015.agiledenver.org
Thursday-Friday, April 30-May 1
Agile and Beyond
Location: Adoba Hotel, Dearborn, MI
More Info: http://agileandbeyond.com/2015
Monday-Wednesday, May 4-6
Global Scrum Gathering
Location: Talking Stick Resort, Phoenix, AZ
More Info: http://www.scrumalliance.org
Friday, May 8
Keep Austin Agile
Location: Renaissance Hotel, Austin, TX
More Info: http://2015conf.agileaustin.org
Saturday-Sunday, May 16-17
Agile Games 2015
Location: Microsoft New England Research & Development (NERD) Center, Cambridge, MA
More Info: http://agilegamesnewengland.com
Monday-Wednesday, June 8-10
LKNA - Lean Kanban North America
Location: Eden Roc Hotel, Miami Beach, FL
More Info: http://lkna15.leankanban.com/welcome-lkna15
Monday-Wednesday, June 22-24
Scrum Coaching Retreat
Location: Seattle Hilton, Seattle, WA
More Info: https://www.scrumalliance.org/courses-events/events/coaches-retreats/2015/scrum-coaching-retreat-seattle-washington
Monday-Friday, August 3-7
Agile 2015
Location: Gaylord National Resort, Washington, DC
More Info: http://www.agilealliance.org