AgileSoCal Monthly Meeting - Wednesday, September 24th, 6:00 PM
Brewing Up Some Lean Coffee... A Collaborative Workshop

Victor Bonacci
Agile teams are often challenged with running effective collaborative activities, those that generate the outcomes that matter without feeling like just another meeting.
Join us on Wednesday, September 24th, as agilista Victor Bonacci leads us in a hands-on exploration of Lean Coffee, a meeting format that can meet the challenge.
When: Wednesday, September 24th <-- Note the change to the 4th Wednesday!
Networking and food, 6:00 PM.
Activities start, 6:30 PM.

***** Always free, but YOU MUST RSVP to agilesocal@gmail.com !!! *****
Brewing Up Some Lean Coffee
A Collaborative Workshop
How much time do you waste in meetings? If you're not facilitating and didn't write the agenda, are you fully vested in the meeting? Wouldn't it be great to eliminate some of the waste (and get your time back)?
Lean Coffee is an agenda-less meeting format that is both easy to use and effective at maximizing participation and collaboration. In the workplace, Lean Coffee can be used for retrospectives, brainstorming sessions and staff meetings. Meeting attendees are engaged and only discuss topics that are important to the group. No more wasted time.
Your Facilitator:
Victor Bonacci (@AgileCoffee) is an MBA, PMP and CSP who has been working in Agile/Lean/Scrum since 2001. He organizes a Lean Coffee community group in Orange County and hosts a podcast using the Lean Coffee format.

Where: The Capital Group Companies
6455 Irvine Center Drive (Yosemite Building, 1st floor)
Irvine, CA 92618
Exit the 5 or 405 at Sand Canyon.
From the 5, go south to Irvine Center and turn right.
From the 405, go north to Irvine Center and turn left.
Take the first right into the main parking lot at Capital Group.
Park (no permit needed), go to the main entrance, look for the signs.

Thanks to Capital Group (www.thecapitalgroup.com) for the meeting facilities.
Thanks to VersionOne (www.versionone.com) for food and free agile stuff.
Thanks to BigVisible (www.bigvisible.com) for sponsoring our educational program.
Thanks to Mike Cohn (www.mountaingoatsoftware.com) for free course registration, agile books and stuff.
Thanks to Rally Software (www.rallydev.com) for free agile stuff.
Thanks to JetBrains (www.jetbrains.com) for free tool licenses.
Thanks to O'Reilly (www.oreilly.com) for free e-books.

To be eligible for the drawing for free books and agile stuff YOU MUST RSVP to agilesocal@gmail.com and be present to win.

AgileSoCal is your community for all things agile. Find us:
On our website at www.agilesocal.com (You are here!)
On Linked-In (group name "AgileSoCal") at www.linkedin.com/groups?gid=1833155
On Yahoo! Groups (group name "xpsocal") at tech.groups.yahoo.com/group/xpsocal/
On Twitter (timeline name "agilesocal") at twitter.com/agilesocal
---
Thanks to our ongoing sponsors:
---
Upcoming 2014 AgileSoCal Meetings
Meetings are usually held on the third Wednesday of each month. But not always, and dates may change, so watch for the announcements.
Wednesday, September 24 - Brewing Up Some Lean Coffee... A Collaborative Workshop
Wednesday, October 15 - A Company's Transformation to Agile: 1-year Retrospospective - Ben Rodilitz, ScrumMaster Dealer.Com
Wednesday, November 12 - TBD (note the change to the 2nd Wednesday to avoid Thanksgiving)
Wednesday, December 10 - The Fifth Annual AgileSoCal Holiday Bash!
All meeting start with food & networking at 6:00 PM, presentation starts at 6:30 PM, raffle follows the presentation.
Would you like to speak at AgileSoCal? Or do you know someone you'd like to see? Email us at agilesocal@gmail.com .
---
Past Meetings & Events
Here's a sample from past AgileSoCal meetings. Our meetings feature experienced agilistas and cutting-edge topics, and are highly interactive and engaging. Come join us at a future meeting!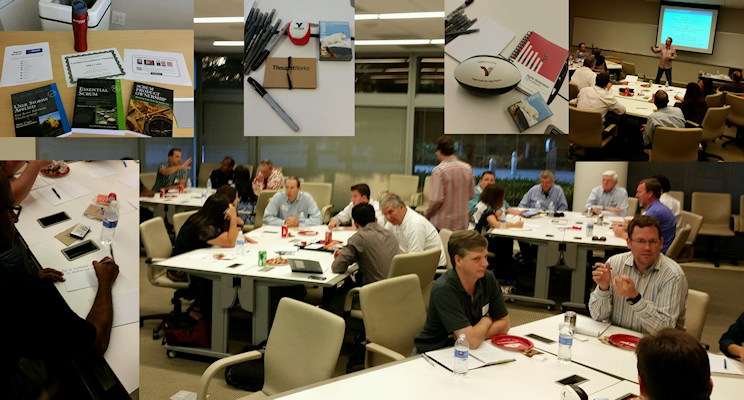 Wednesday, August 27 - Tell Me a Story About That... A User Story Writing Workshop, Paul Hodgetts, Agile Logic
Click here to download the slides from this presentation (PDF - 382 KB).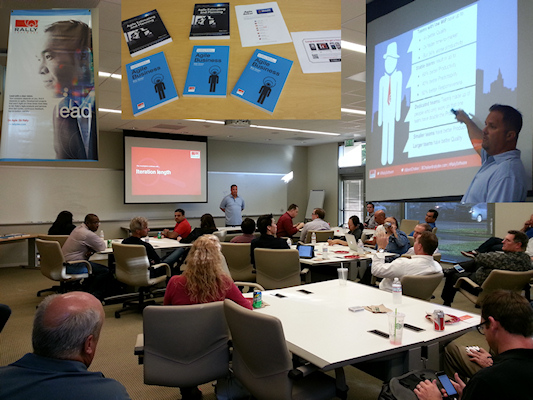 Wednesday, July 16 - The Impact of Agile Quantified - Brent Chalker, Rally Software
Click here to download the slides from this presentation (PDF - 3.5 MB).
Links to whitepapers and videos:
Seven Deadly Sins
SDPI Methods
Impact of SDPI
Youtube Videos of SDPI Metrics (5 videos)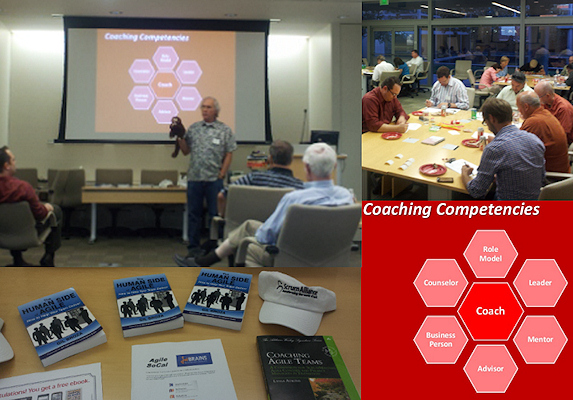 Wednesday, June 18 - The Agile Coaching Profession - Roger Brown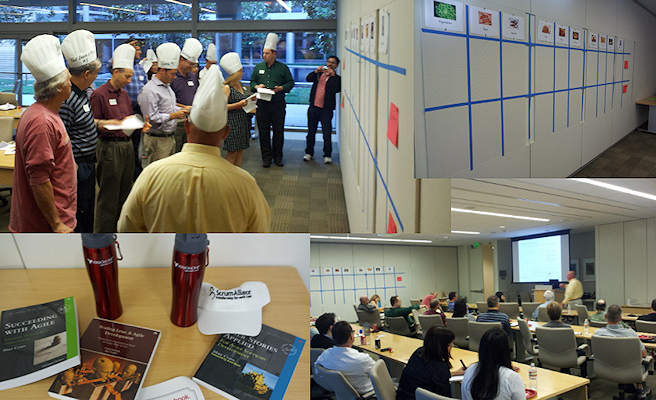 Wednesday, May 28 - Program Level Scrum Practices - Chris Waggoner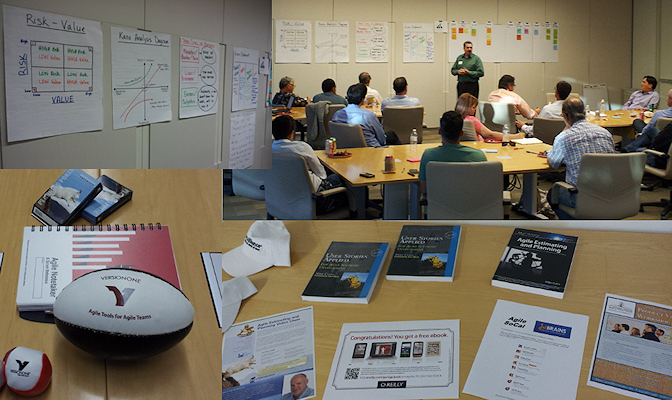 Wednesday, April 16 - The Value of Story Mapping - David Brown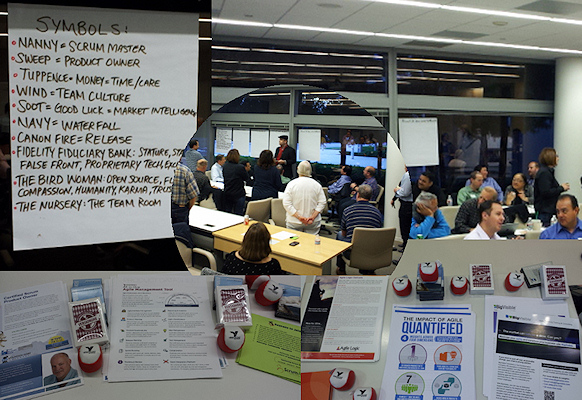 Wednesday, March 26 - A Spoon Full of Scrum - Jon Jorgensen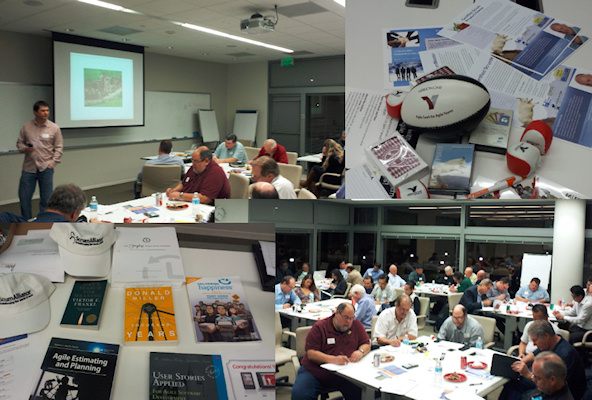 Thursday, February 20 - Agile Leader Storyline - Scott Dunn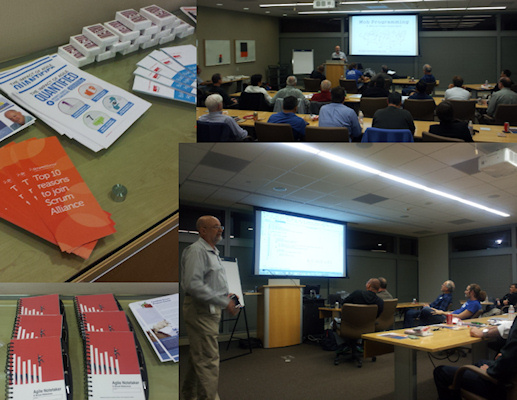 Wednesday, January 22 - Mob Programming - Woody Zuill & Friends
The 2013 AgileSoCal Holiday Bash on Wednesday, December 11, 2013 was an amazing event. You can check out photos and more by clicking here.
Click here for a full history of all AgileSoCal meetings.
---
Upcoming Agile Events Calendar
So Cal Local Agile User Group Meetings Calendar
Thursday, October 2, 6:00-7:30 PM
Agile San Diego – Lightweight Business Cases for Agile Projects, Tirrell Payton
Location: Mitchell, San Diego
More Info: http://www.agilesandiego.org
Saturday, October 4, 9:45 AM + Tuesday, October 7, 6:30 PM (every 2 weeks)
Agile Coffee
Location: PICS, Irvine
More Info: http://www.meetup.com/agile-coffee
Wednesday, October 15, 6:00-8:00 PM (Back to the 3rd Wednesday!)
AgileSoCal Monthly Evening Meeting – A Company's Transformation to Agile, Ben Rodilitz
Location: The Capital Group, Irvine
More Info: http://www.agilesocal.com  <- Watch for the announcement!
Thursday, October 16, 6:00 PM
LA Agile Meetup – Research and Design in an Agile World
Location: MarketShare, Santa Monica
More Info: http://www.meetup.com/LA-Agile-MeetUp
Tuesday, October 21, 6:00-8:30 PM
SCQAA-OC – The Critical Need for Sprint 0, Dick Carlson
Location: The Capital Group, Irvine
More Info: http://www.scqaa-oc.com
Wednesday, October 29, 6:30 PM
vNext_OC – Mob Programming Night
Location: TEKsystems, Newport Beach
More Info: http://www.meetup.com/vNext-OrangeCounty
Also watch for OC Product Managers, PDMA, PMI OC & LA, SCQAA-OC, Java/.NET user groups, LA Agile Meetup & other MeetUps, etc. to be announced…
Conferences & National/Regional Agile Events Calendar
Thursday-Friday, October 9-10, 2014
Agile Open California 2014 North
Location: Collabnet, South San Francisco
More Info: http://www.agileopencalifornia.com/northern_ca.html
Sunday-Friday, October 12-17, 2014
STARWest Conference
Location: Disneyland Hotel, Anaheim
More Info: http://starwest.techwell.com/
Tuesday, October 21, 2014
Agile DC 2014
Location: Kellogg Conference Center, Washington DC
More Info: http://agiledc.org
Friday-Saturday, October 24-25, 2014
SoTeC – Southland Technology Conference
Location: Long Beach Hilton, Long Beach
More Info: http://sotecconference.com
Tuesday-Thursday, October 28-30, 2014
Scrum Coaching Retreat
Location: Chapel Hill, NC
More Info: http://www.scrumalliance.org
Sunday-Friday, November 9-14, 2014
Agile Development Conference East
Location: Disney World, Orlando, FL
More Info: http://www.sqe.com/Conferences
Saturday, November 15, 2014
ProductCamp SoCal
Location: EventPlex, Anaheim
More Info: http://www.productcampsocal.org
Global Scrum Gathering: Phoenix May 4-6 2015, http://www.scrumalliance.org
Agile 2015: Washington DC August 3-7 2015, http://www.agilealliance.org