AgileSoCal Monthly Meeting - Wednesday, September 16th, 6:00 PM
(Still on the 3rd Wednesday!)
Product Visioning in the Agile World

with Aparna Suresh
When: Wednesday, September 16th <-- Still on the 3rd Wednesday!
Networking and food, 6:00 PM.
Activities start, 6:30 PM.

Click here to download the slides from this presentation (PDF - 375 KB).
Product Visioning in the Agile World: Why You Need a Coherent Vision to Drive your Product Backlog and How to Create It
Nike's Just Do It! slogan could easily be mistaken for an agile mantra. Quickly jumping into writing user stores to get the delivery team working on a backlog as quickly as possible is the way to go, right? Actually, no, not really! Coming up with user stories for the latest 'hot' product fads with minimal thought results in creating an ad-hoc mix of user stories that looks like a 'feature soup'! This makes delivering business value aligned with key business drivers a hit or miss proposition, which makes for some rather unhappy business stakeholders and customers. It also bleeds energy and focus away from the delivery team, who can't see a unifying purpose in the stories that they deliver.
What can product owners do to focus and energize their delivery teams and make sure the backlog has stories that deliver the mega bang for their megabucks?
Enter the concept of Product Vision, an idea that was quite popular in the pre-agile days but has more often than not fallen by the wayside in the rush to scrum! Discover why it's crucial for the product owner to work with business stakeholders and the delivery team to create a coherent product vision, before they create a product backlog, and how to go about it.
In this presentation, you'll learn why it's critical to start with the end in mind, why a coherent and compelling product vision makes such a difference and how exactly to go about it. You'll discover proven techniques for creating a product vision, from a product vision box to a vision board, and more! Chances are after attending this presentation, and being armed with these tools, you'll never be able to kickoff an agile project again without crafting a coherent vision first!
Your Presenter:
Aparna Suresh has over 10 years of global business experience, in designing products and delivering solutions, at Fortune 500 companies, including Experian, GE Healthcare, Motorola and First American Title. She enjoys the process of bringing people together to create a shared vision of the product, and collaborating to deliver a business solution that makes a real difference in people's lives, whether it's designing medical device products that save lives, or title insurance products that enable people to realize the American Dream.
Aparna, a Certified Scrum Master and Certified Scrum Product Owner, is currently a Senior Business Systems Analyst at First American Title. She works with customers to transform business requirements into system solutions, leveraging agile processes and collaborating with globally distributed cross-functional teams, to deliver customer-focused projects on time. Her cross-cultural skills, honed by working in the U.S., Europe and India, enable her to coach IT managers, business leaders and offshore teams to collaborate effectively.
Aparna holds a Master's in Engineering and Information Sciences from the University of Reading, England and a Master's in Organizational Leadership from Gonzaga University.


Where: The Capital Group Companies
6455 Irvine Center Drive (Yosemite Building, 1st floor)
Irvine, CA 92618
Exit the 5 or 405 at Sand Canyon.
From the 5, go south to Irvine Center and turn right.
From the 405, go north to Irvine Center and turn left.
Take the first right into the main parking lot at Capital Group.
Park (no permit needed), go to the main entrance, look for the signs.

Thanks to Capital Group (www.thecapitalgroup.com) for the meeting facilities.
Thanks to VersionOne (www.versionone.com) for food and free agile stuff.
Thanks to SolutionsIQ (www.solutionsiq.com) for sponsoring our educational program.
Thanks to Mike Cohn (www.mountaingoatsoftware.com) for agile e-courses, agile books and stuff.
Thanks to OSP International (www.agile-prepcast.com) for free The Agile PrepCast registration.
Thanks to Rally Software (www.rallydev.com) for free agile stuff.
Thanks to Conscires Agile Practices (www.conscires.com) for sponsoring the Bash.
Thanks to JetBrains (www.jetbrains.com) for free tool licenses.
Thanks to O'Reilly (www.oreilly.com) for free e-books.

To be eligible for the drawing for free books and agile stuff YOU MUST RSVP to agilesocal@gmail.com 24 hours prior to the meeting and be present to win.

AgileSoCal is your community for all things agile. Find us:
On our website at www.agilesocal.com (You are here!)
On Linked-In (group name "AgileSoCal") at www.linkedin.com/groups?gid=1833155
On Yahoo! Groups (group name "xpsocal") at tech.groups.yahoo.com/group/xpsocal/
On Twitter (timeline name "agilesocal") at twitter.com/agilesocal
---
Thanks to our ongoing sponsors:
---
Upcoming 2015 AgileSoCal Meetings
Meetings are usually held on the third Wednesday of each month. But not always, and dates may change, so watch for the announcements.
Wednesday, September 16 - Aparna Suresh - Product Vision in the Agile World
Wednesday, October 21 - Ben Rodilitz - The Transformation continues - a 2-year retrospective
Wednesday, November 11 - Victor Bonacci - Pair Coaching <- Note the second Wednesday to avoid the holiday!
Wednesday, December 9 - The Sixth Annual AgileSoCal Holiday Bash!
All meeting start with food & networking at 6:00 PM, presentation starts at 6:30 PM, raffle follows the presentation.
Would you like to speak at AgileSoCal? Or do you know someone you'd like to see? Email us at agilesocal@gmail.com .
---
Past Meetings & Events
Here's a sample from past AgileSoCal meetings. Our meetings feature experienced agilistas and cutting-edge topics, and are highly interactive and engaging. Come join us at a future meeting!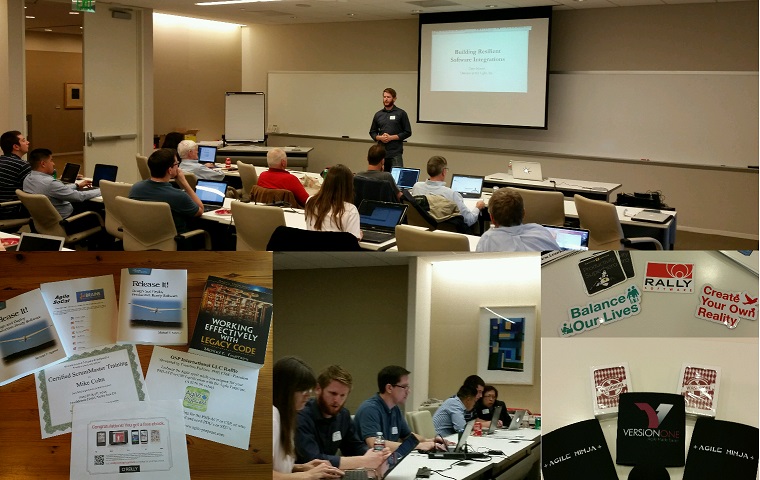 Wednesday, March 19, 2015 - Building Resilient Software Integrations: Dave Moore, 8th Light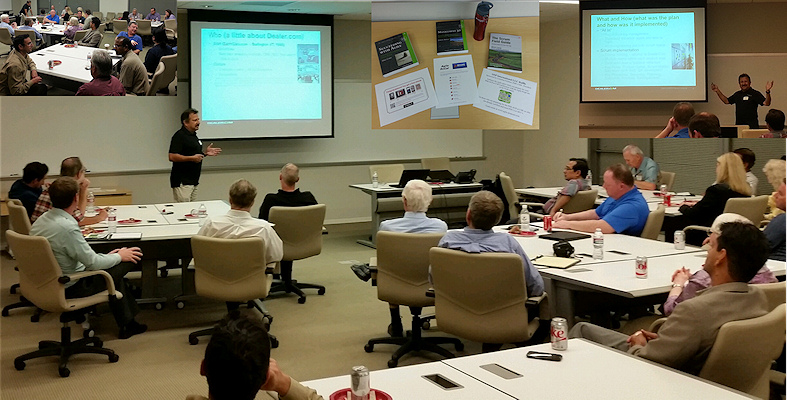 Wednesday, October 15, 2014 - A Company's Transformation to Agile: 1-year Retrospective, Ben Rodilitz, Dealer.com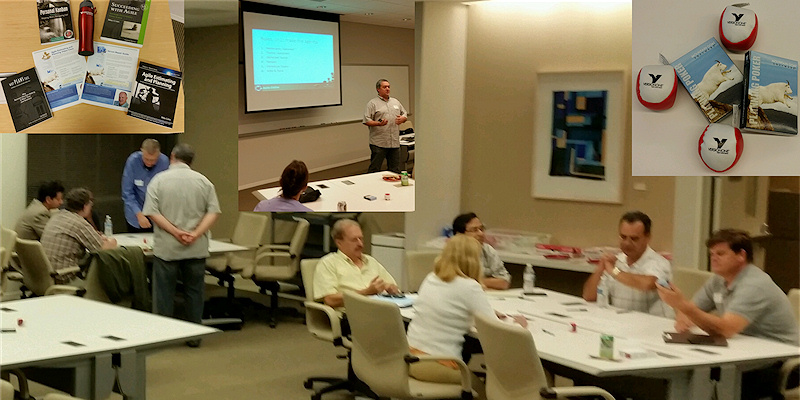 Wednesday, September 24, 2014 - Brewing Up Some Lean Coffee: A Collaborative Workshop, Victor Bonacci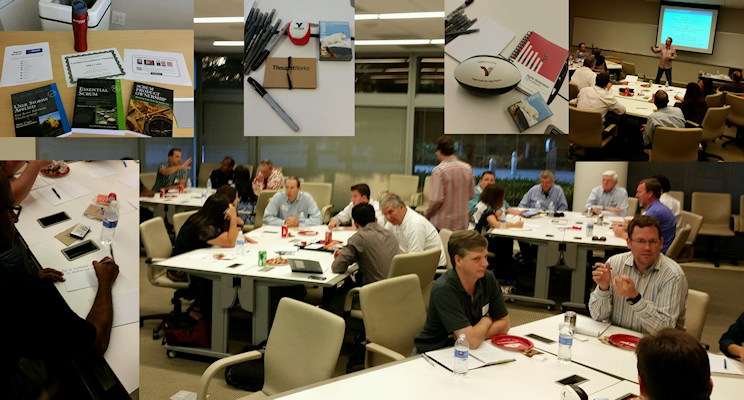 Wednesday, August 27, 2014 - Tell Me a Story About That... A User Story Writing Workshop, Paul Hodgetts, Agile Logic
Click here to download the slides from this presentation (PDF - 382 KB).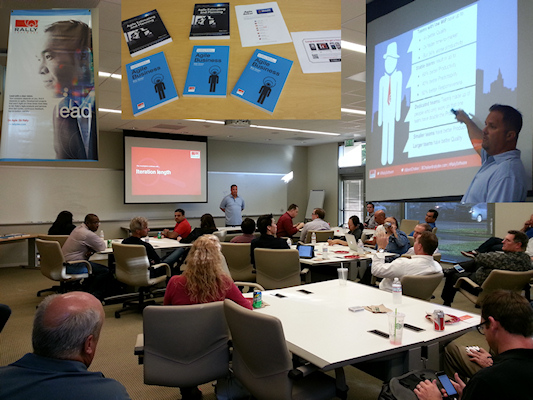 Wednesday, July 16, 2014 - The Impact of Agile Quantified - Brent Chalker, Rally Software
Click here to download the slides from this presentation (PDF - 3.5 MB).
Links to whitepapers and videos:
Seven Deadly Sins
SDPI Methods
Impact of SDPI
Youtube Videos of SDPI Metrics (5 videos)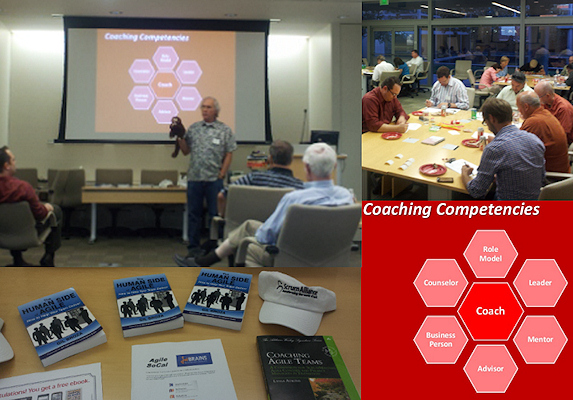 Wednesday, June 18, 2014 - The Agile Coaching Profession - Roger Brown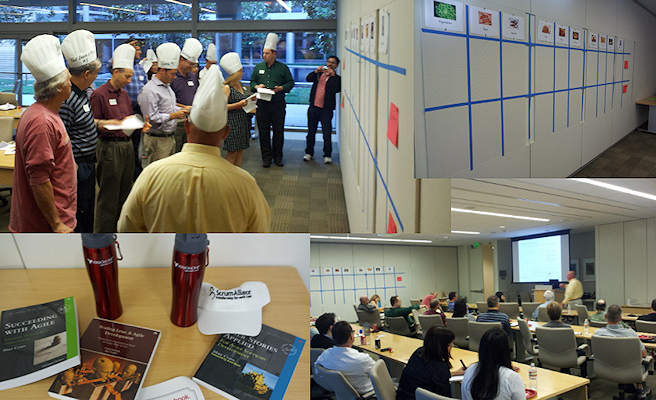 Wednesday, May 28, 2014 - Program Level Scrum Practices - Chris Waggoner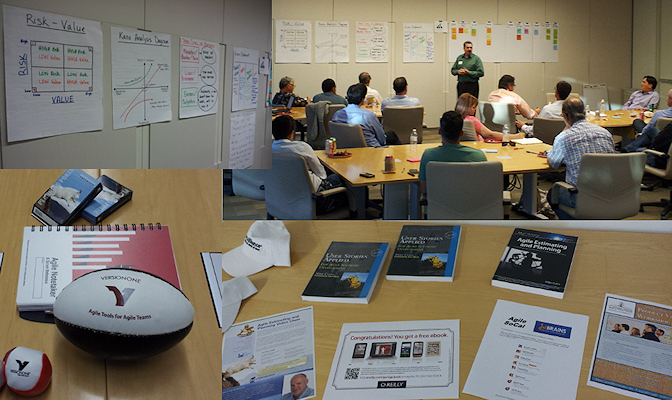 Wednesday, April 16, 2014 - The Value of Story Mapping - David Brown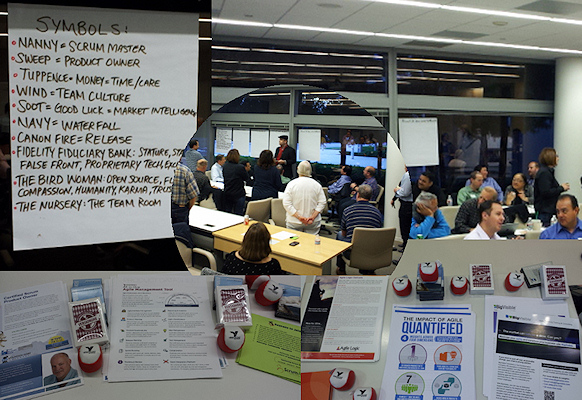 Wednesday, March 26, 2014 - A Spoon Full of Scrum - Jon Jorgensen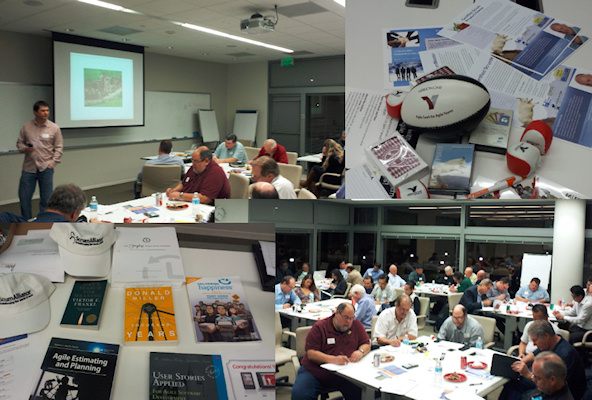 Thursday, February 20, 2014 - Agile Leader Storyline - Scott Dunn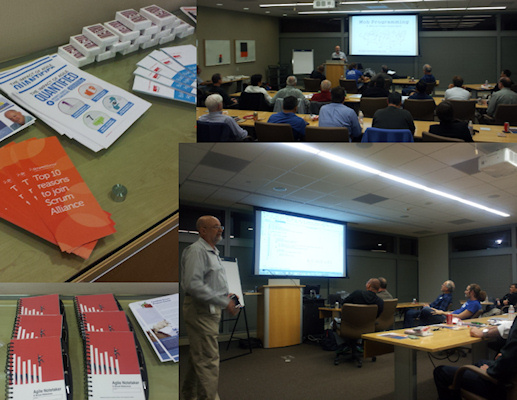 Wednesday, January 22, 2014- Mob Programming - Woody Zuill & Friends
The 2013 AgileSoCal Holiday Bash on Wednesday, December 11, 2013 was an amazing event. You can check out photos and more by clicking here.
Click here for a full history of all AgileSoCal meetings.
---
Upcoming Agile Events Calendar
So Cal Local Agile Events Calendar
Tuesday, September 22
Extreme Roundtable
Location: Santa Monica (Pivotal Labs)
More Info: Extreme Roundtable
Saturday-Sunday, November 14-15
SoCal Code Camp
Location: USC
More Info: http://www.socalcodecamp.com/
Monday-Tuesday, December 7-8
Certified ScrumMaster course with Mike Cohn
Location: Wyndham Hotel, Costa Mesa
More info: https://www.mountaingoatsoftware.com/
Wednesday-Thursday, December 9-10
Certified Scrum Product Owner course with Mike Cohn
Location: Wyndham Hotel, Costa Mesa
More info: https://www.mountaingoatsoftware.com/
Also watch for OC Product Managers, PDMA, PMI OC & LA, SCQAA-OC, Java/.NET user groups, LA Agile Meetup & other MeetUps, etc. to be announced…
Regional & National Agile Events Calendar
September 23
Brewing Agile or Just Wining About It?
Location: Portland
More Info: Eventbrite Registration
October 23 - 24
2015 Southland Technology Conference
Location: Long Beach Hilton
More Info: http://www.sotecconference.com/

Friday, November 6
Software Craftsmanship North America
Location: Radisson Hotel at USC, Los Angeles, CA
More Info: http://scna.softwarecraftsmanship.com/

November 8 - 13
Agile Development Conference East
Location: Orlando, FL
More Info: http://adceast.techwell.com/

Saturday, November 14
Global Day of Code Retreat
Location: TBA
More Info: http://globalday.coderetreat.org

March 13-16, 2016
Scrum Coaching Retreat
Location: San Diego/Mission Valley
More Info: http://www.scrumalliance.org/