AgileSoCal Monthly Meeting - Wednesday, February 17, 6:00 PM
DevOps, It's a People Problem AND a Technical Problem
with Steve Ropa, Agile Coach at VersionOne
When: Wednesday, February 17th
Networking and food, 6:00 PM.
Activities start, 6:30 PM.

***** Always free, but YOU MUST RSVP to agilesocal@gmail.com *****
Gerry Weinberg once said of consulting There is always a problem, and it's always a people problem. The world of DevOps is emerging rapidly, and just like the early days of Agile, is still working on refining exactly what DevOps means. Often the focus is either on the technical aspects of the various tools, or on the people problem of "bringing Ops into the room."
But what is the problem that DevOps addresses? And is that problem more of a technical problem? Or a people problem?
We will explore this, and look at the possible intersection between the two "problems" and how a DevOps approach can help overcome them.
Your Presenter:
Steve Ropa (@steveropa) has more than 25 years of experience in software development and 15 years of experience working with agile methods. Steve is passionate about bridging the gap between the business and technology and nurturing the change in the nature of development. As an agile coach and VersionOne product trainer, Steve has supported clients across multiple industry verticals including: telecommunications, network security, entertainment and education. A frequent presenter at agile events, he is also a member of Agile Alliance and Scrum Alliance. In his personal time, Steve plays principal trombone in a regional orchestra and is an avid woodworker.


Where: The Capital Group Companies
6455 Irvine Center Drive (Yosemite Building, 1st floor)
Irvine, CA 92618
Exit the 5 or 405 at Sand Canyon.
From the 5, go south to Irvine Center and turn right.
From the 405, go north to Irvine Center and turn left.
Take the first right into the main parking lot at Capital Group.
Park (no permit needed), go to the main entrance, look for the signs.

Thanks to Capital Group (www.thecapitalgroup.com) for the meeting facilities.
Thanks to VersionOne (www.versionone.com) for food and free agile stuff.
Thanks to SolutionsIQ (www.solutionsiq.com) for sponsoring our educational program.
Thanks to Mike Cohn (www.mountaingoatsoftware.com) for agile e-courses, agile books and stuff.
Thanks to OSP International (www.agile-prepcast.com) for free The Agile PrepCast registration.
Thanks to Rally Software (www.rallydev.com) for free agile stuff.
Thanks to Conscires Agile Practices (www.conscires.com) for sponsoring the Bash.
Thanks to JetBrains (www.jetbrains.com) for free tool licenses.
Thanks to O'Reilly (www.oreilly.com) for free e-books.

To be eligible for the drawing for free books and agile stuff YOU MUST RSVP to agilesocal@gmail.com 24 hours prior to the meeting and be present to win.

AgileSoCal is your community for all things agile. Find us:
On our website at www.agilesocal.com (You are here!)
On Linked-In (group name "AgileSoCal") at www.linkedin.com/groups?gid=1833155
On Yahoo! Groups (group name "xpsocal") at tech.groups.yahoo.com/group/xpsocal/
On Twitter (timeline name "agilesocal") at twitter.com/agilesocal
---
Thanks to our ongoing sponsors:
---
Upcoming 2016 AgileSoCal Meetings
Meetings are usually held on the third Wednesday of each month. But not always, and dates may change, so watch for the announcements.
February 17 - DevOps with Steve Ropa, VersionOne
March 16 - TBA
April 20 -
May 18 -
June 22 - Note this is the 4th Wednesday!
July 20 -
August 17 -
September 21 -
October 19 -
November 9 - Note this is the 2nd Wednesday!
December - no meeting, Happy Holidays!
All meeting start with food & networking at 6:00 PM, presentation starts at 6:30 PM, raffle follows the presentation.
Would you like to speak at AgileSoCal? Or do you know someone you'd like to see? Email us at agilesocal@gmail.com .
---
Past Meetings & Events
Click here for a full history of all AgileSoCal meetings.
Here's a sample from past AgileSoCal meetings. Our meetings feature experienced agilistas and cutting-edge topics, and are highly interactive and engaging. Come join us at a future meeting!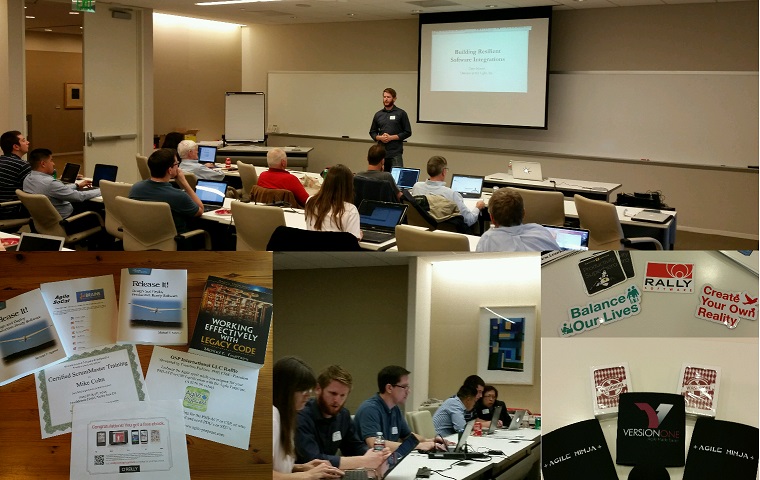 Wednesday, March 19, 2015 - Building Resilient Software Integrations: Dave Moore, 8th Light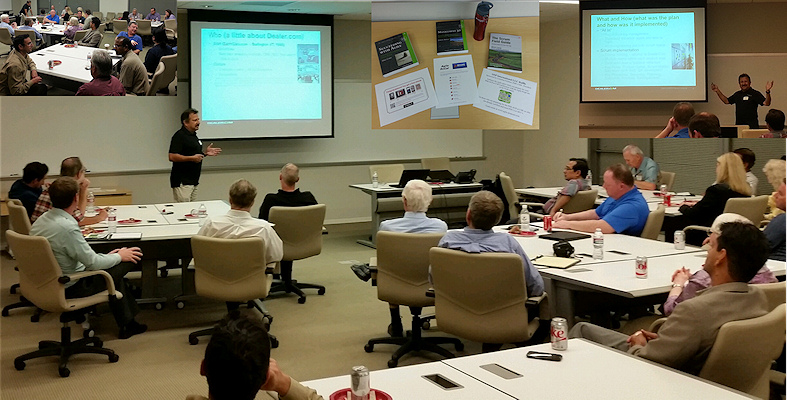 Wednesday, October 15, 2014 - A Company's Transformation to Agile: 1-year Retrospective, Ben Rodilitz, Dealer.com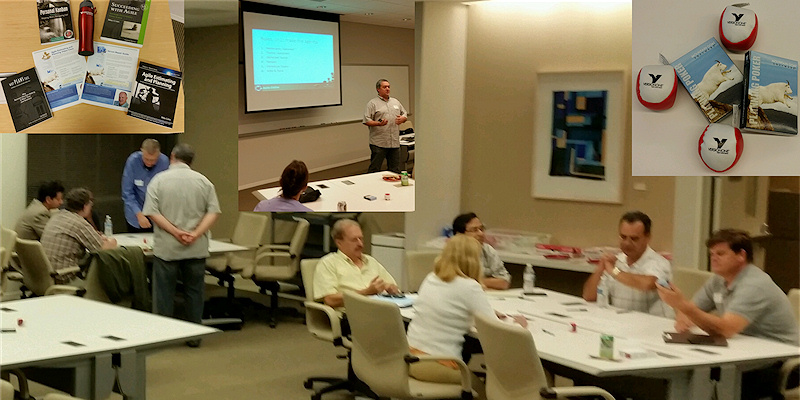 Wednesday, September 24, 2014 - Brewing Up Some Lean Coffee: A Collaborative Workshop, Victor Bonacci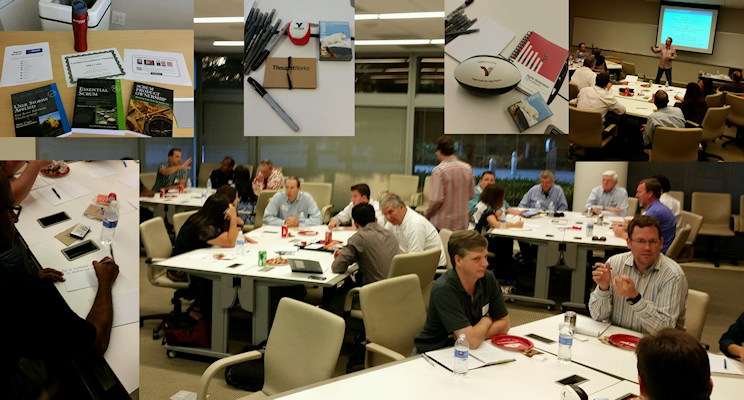 Wednesday, August 27, 2014 - Tell Me a Story About That... A User Story Writing Workshop, Paul Hodgetts, Agile Logic
Click here to download the slides from this presentation (PDF - 382 KB).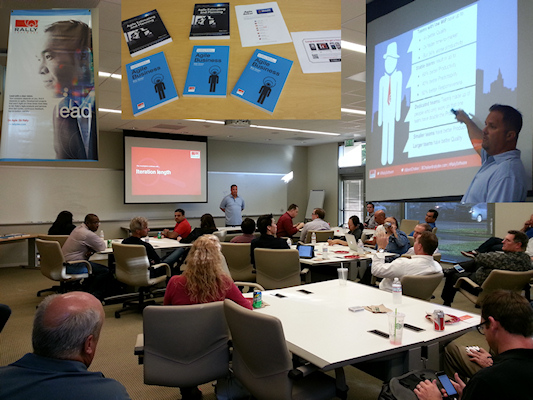 Wednesday, July 16, 2014 - The Impact of Agile Quantified - Brent Chalker, Rally Software
Click here to download the slides from this presentation (PDF - 3.5 MB).
Links to whitepapers and videos:
Seven Deadly Sins
SDPI Methods
Impact of SDPI
Youtube Videos of SDPI Metrics (5 videos)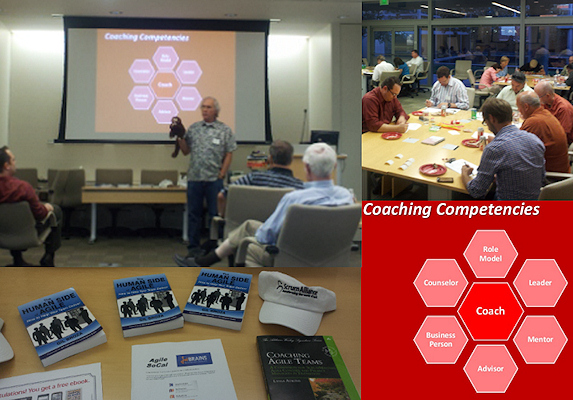 Wednesday, June 18, 2014 - The Agile Coaching Profession - Roger Brown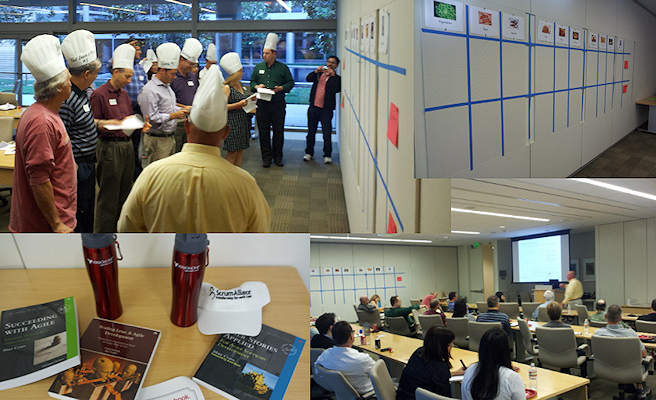 Wednesday, May 28, 2014 - Program Level Scrum Practices - Chris Waggoner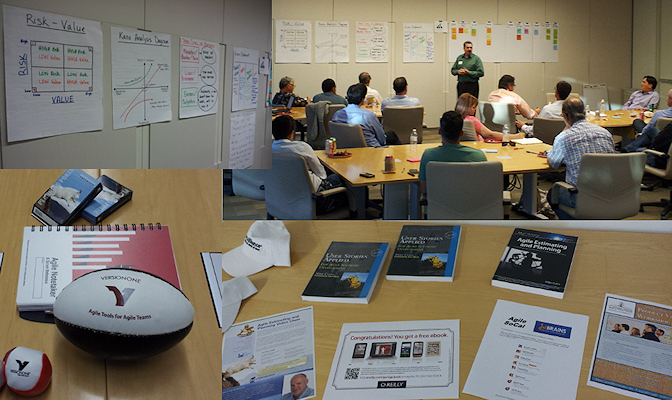 Wednesday, April 16, 2014 - The Value of Story Mapping - David Brown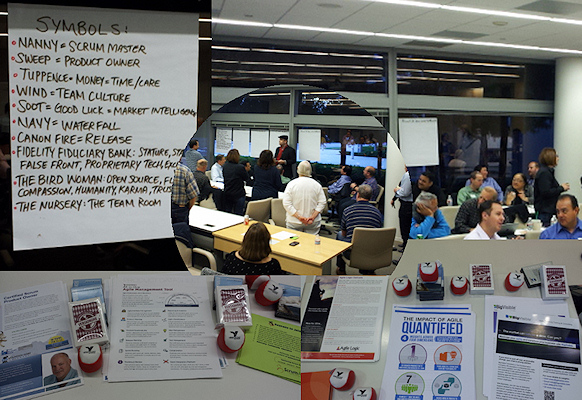 Wednesday, March 26, 2014 - A Spoon Full of Scrum - Jon Jorgensen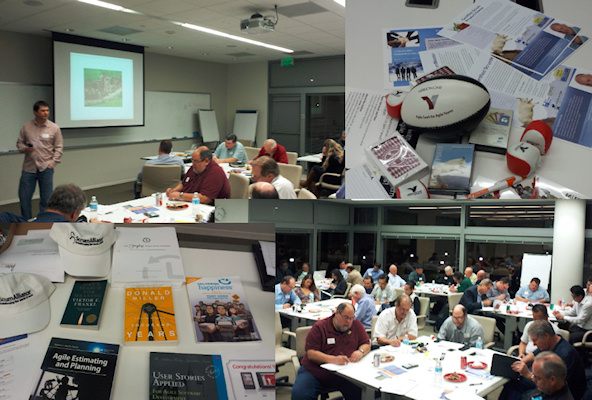 Thursday, February 20, 2014 - Agile Leader Storyline - Scott Dunn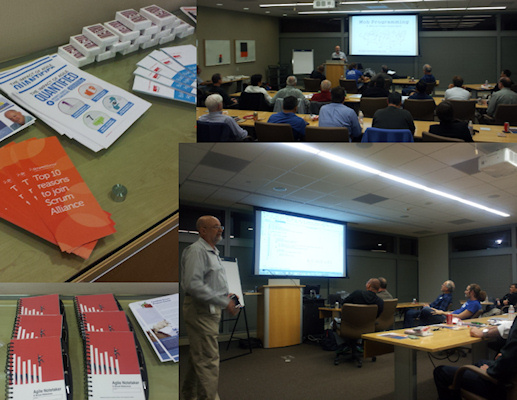 Wednesday, January 22, 2014- Mob Programming - Woody Zuill & Friends
The 2013 AgileSoCal Holiday Bash on Wednesday, December 11, 2013 was an amazing event. You can check out photos and more by clicking here.
Click here for a full history of all AgileSoCal meetings.
---
Upcoming Agile Events Calendar
So Cal Local Agile Events Calendar
Tuesday, February 9, 7:00 pm
Extreme Roundtable
Location: Santa Monica (Pivotal Labs)
More info: http://www.meetup.com/xp-los-angeles/
Tuesday, February 16
LA Software Workshops - Refactoring Workshop
Location: downtown Los Angeles
More info: http://www.meetup.com/LA-Software-Workshops/
Monday-Tuesday, March 7-8
Certified ScrumMaster course with Mike Cohn
Location: Wyndham Hotel, Costa Mesa
More info: https://www.mountaingoatsoftware.com/
Wednesday-Thursday, March 9-10
Certified Scrum Product Owner course with Mike Cohn
Location: Wyndham Hotel, Costa Mesa
More info: https://www.mountaingoatsoftware.com/
Tuesday, March 22, 7:00 pm
Pair Exchange
Location: Santa Monica (Pivotal Labs)
More info: http://www.meetup.com/xp-los-angeles/
Also watch for OC Product Managers, PDMA, PMI OC & LA, SCQAA-OC, Java/.NET user groups, LA Agile Meetup & other MeetUps, etc. to be announced…
Regional & National Agile Events Calendar
February 3-5, 2016
Agile Open Northwest
Location: Seattle, WA
More Info: http://www.agileopennorthwest.org/2016/

February 25-26
Agile Open San Diego
Location: Marina Village, San Diego
More info: http://agileopencalifornia.com/san_diego.html

March 13-16
Scrum Coaching Retreat
Location: San Diego/Mission Valley
More Info: http://www.scrumalliance.org/

April 1
Scrum Day Orange County
Location: Orange County
More info: http://scrumdayoc.com
April 7-9
Agile Alliance Technical Conference
Location: Raleigh, NC
More Info: http://agilealliance.org/

April 8
Agile Games Day San Diego
Location: San Diego (Marina Village)
More Info: https://www.eventbrite.com/e/agile-games-day-san-diego-tickets-20933878795

April 15-17
Cancelled - Agile Coach Camp US West
Location: Irvine Regional Park
More Info: http://www.agilegathering.com/

May 1-2
Mob Programming Conference
Location: Cambridge, MA
More info: http://www.mobprogrammingconference.com/

May 16-18
LeanKanban North America
Location: San Diego, CA
More info: http://lkna16.leankanban.com/

June 12, 2016
Scrum Day San Diego
Location: San Diego
More info: https://scrumdaysandiego.com