AgileSoCal Monthly Meeting - Wednesday, March 26th, 6:00 PM
A Spoon Full of Scrum
Jon Jorgensen
When learning agile processes such as Scrum, it can be challenging to relate the new concepts to our prior experiences. Even for experienced practitioners, we often seek new ways to explain and evangelize agile from different perspectives.
Join us at our March 26th evening meeting as expert ScrumMaster and agilista Jon Jorgensen approaches agile and Scrum from a most unexpected angle -- the world of Mary Poppins! Be prepared to experience agile concepts in a unique, whimsical way.
When: Wednesday, March 26th <-- Note the change to the 4th Wednesday!
Networking and food, 6:00 PM.
Activities start, 6:30 PM.

***** Always free, but YOU MUST RSVP to agilesocal@gmail.com !!! *****
A Spoon Full of Scrum
Learning by metaphors can rapidly yield software development professionals valuable (yet inexpensive) insights into how to improve project outcomes while growing team capacity. While ultra-light frameworks such as Scrum purport to be simple, straight-forward or intuitive, many teams flounder, burn-out or face frequent contentious flare-ups. The stories of Mary Poppins conveniently serve the Agile community in the form of parables, for just such occasions.
Join us in a guided tour through group exercises intended to derive lasting, professionally-relevant meaning from Zen-like "Poppin-isms."

Your Speaker:
Working in heavy industries in Japan, Jon Jorgensen learned Lean from the founders of the TPS & Kaizen movement. After returning to the U.S. 17 years later, Jon leverages elements of waterfall, agile, scrum, XP, SAFe, The Core Protocols, "new Kanban" and Lean Startup in software engineering projects. He now works at PICS Auditing as a ScrumMaster and volunteers at Agile Coffee.

Where: The Capital Group Companies
6455 Irvine Center Drive (Yosemite Building, 1st floor)
Irvine, CA 92618
Exit the 5 or 405 at Sand Canyon.
From the 5, go south to Irvine Center and turn right.
From the 405, go north to Irvine Center and turn left.
Take the first right into the main parking lot at Capital Group.
Park (no permit needed), go to the main entrance, look for the signs.

Thanks to Capital Group (www.thecapitalgroup.com) for the meeting facilities.
Thanks to VersionOne (www.versionone.com) for the food and free agile stuff.
Thanks to BigVisible (www.bigvisible.com) for sponsoring our educational program.
Thanks to Mike Cohn (www.mountaingoatsoftware.com) for free agile books and stuff.
Thanks to Rally Software (www.rallydev.com) for free agile stuff.
Thanks to JetBrains (www.jetbrains.com) for free tool licenses.
Thanks to O'Reilly (www.oreilly.com) for free e-books.

To be eligible for the drawing for free books and agile stuff YOU MUST RSVP to agilesocal@gmail.com and be present to win.

AgileSoCal is your community for all things agile. Find us:
On our website at www.agilesocal.com (You are here!)
On Linked-In (group name "AgileSoCal") at www.linkedin.com/groups?gid=1833155
On Yahoo! Groups (group name "xpsocal") at tech.groups.yahoo.com/group/xpsocal/
On Twitter (timeline name "agilesocal") at twitter.com/agilesocal
---
Thanks to our ongoing sponsors:
---
Upcoming 2014 AgileSoCal Meetings
Meetings are usually held on the third Wednesday of each month. But not always, so watch for the announcements.
Wednesday, March 26 - A Spoon Full of Scrum - Jon Jorgensen (note the change to the 4th Wednesday)
Wednesday, April 16 - TBD
Wednesday, May 21 - TBD
Wednesday, June 18 - TBD
Wednesday, July 16 - TBD
Wednesday, August 20 - TBD
Wednesday, September 17 - TBD
Wednesday, October 15 - TBD
Wednesday, November 12 - TBD (note the change to the 2nd Wednesday to avoid Thanksgiving)
Wednesday, December 10 - The Fifth Annual AgileSoCal Holiday Bash!
All meeting start with food & networking at 6:00 PM, presentation starts at 6:30 PM, raffle follows the presentation.
Would you like to speak at AgileSoCal? Or do you know someone you'd like to see? Email us at agilesocal@gmail.com .
---
Past Meetings & Events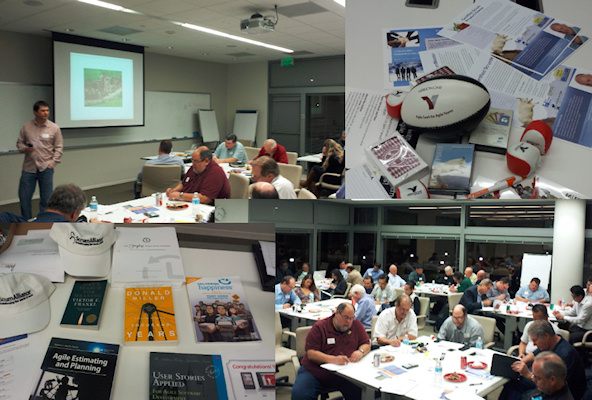 Thursday, February 20 - Agile Leader Storyline - Scott Dunn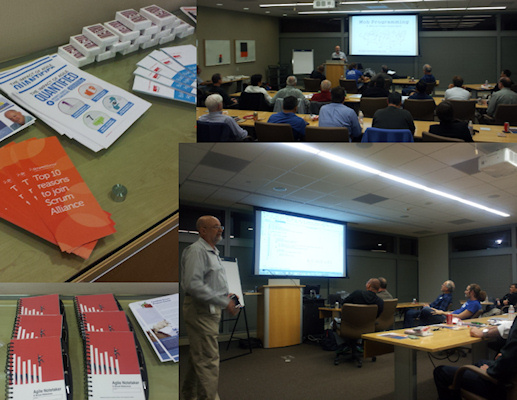 Wednesday, January 22 - Mob Programming - Woody Zuill & Friends
The 2013 AgileSoCal Holiday Bash was an amazing event. You can check out photos and more by clicking here.