AgileSoCal Monthly Meeting - Wednesday, August 27th, 6:00 PM
Tell Me a Story About That... A User Story Writing Workshop

Paul Hodgetts, Coach/Mentor/Trainer, Agile Logic
User stories have become a widely adopted agile practice. But effectively leveraging stories to drive delivery remains challenging, especially in larger efforts where individual stories are part of large features sets and initiatives.
Join us on Wednesday, August 27th, as agile coach Paul Hodgetts leads us in a hands-on exploration of user story techniques from visioning to grooming to story writing.
When: Wednesday, August 27th <-- Note the change to the 4th Wednesday!
Networking and food, 6:00 PM.
Activities start, 6:30 PM.

***** Always free, but YOU MUST RSVP to agilesocal@gmail.com !!! *****
Tell Me a Story About That...
A User Story Writing Workshop
User stories are the essential food for your agile team. Feed them good stories and the product will thrive. Bad stories and the teams will struggle to deliver.
Writing good user stories involves much more than just the story itself. Good stories help drive development and testing, and enable continuous delivery.
User stories are often part of larger, more complex feature sets. Getting to good individual stories needs a process that includes visioning and mapping the big picture, refining large features into manageable chunks, and doing all that grooming collaboratively.
In this workshop, we'll go beyond the basics of story writing to explore the essential techniques necessary to craft well-formed stories and product backlogs that drive high-value delivery.
Using meaningful examples and exercises, you'll learn:
* What a user story really is and what makes for a good story.
* How to approach the evolution of larger goals from ideas to themes to epics to stories.
* What organizing structures we can use to visualize and manage our stories and backlog.
* How to work through the life cycle of stories, and run effective grooming activities.
A good product backlog is a collaborative team responsibility. Everyone on the team benefits from knowing how to create and organize a product backlog that effectively guides development.
Your Coach:
Paul Hodgetts has been involved in lean and agile software development as a coach, mentor and team member since 1998. As the founder and principal coach of Agile Logic, he has helped companies like Microsoft, Yahoo!, SAP, Cisco and PricewaterhouseCoopers achieve success applying lean and agile methods to challenging enterprise projects. Paul is a Certified Kanban Coaching Professional, Certfied Scrum Practitioner, a published author and a popular speaker at conferences and professional groups. For more of Paul's publications and presentations, please visit Agile Logic's web site at www.agilelogic.com .

Where: The Capital Group Companies
6455 Irvine Center Drive (Yosemite Building, 1st floor)
Irvine, CA 92618
Exit the 5 or 405 at Sand Canyon.
From the 5, go south to Irvine Center and turn right.
From the 405, go north to Irvine Center and turn left.
Take the first right into the main parking lot at Capital Group.
Park (no permit needed), go to the main entrance, look for the signs.

Thanks to Capital Group (www.thecapitalgroup.com) for the meeting facilities.
Thanks to VersionOne (www.versionone.com) for food and free agile stuff.
Thanks to BigVisible (www.bigvisible.com) for sponsoring our educational program.
Thanks to Mike Cohn (www.mountaingoatsoftware.com) for free course registration, agile books and stuff.
Thanks to Rally Software (www.rallydev.com) for free agile stuff.
Thanks to JetBrains (www.jetbrains.com) for free tool licenses.
Thanks to O'Reilly (www.oreilly.com) for free e-books.

To be eligible for the drawing for free books and agile stuff YOU MUST RSVP to agilesocal@gmail.com and be present to win.

AgileSoCal is your community for all things agile. Find us:
On our website at www.agilesocal.com (You are here!)
On Linked-In (group name "AgileSoCal") at www.linkedin.com/groups?gid=1833155
On Yahoo! Groups (group name "xpsocal") at tech.groups.yahoo.com/group/xpsocal/
On Twitter (timeline name "agilesocal") at twitter.com/agilesocal
---
Thanks to our ongoing sponsors:
---
Upcoming 2014 AgileSoCal Meetings
Meetings are usually held on the third Wednesday of each month. But not always, and dates may change, so watch for the announcements.
Wednesday, August 27 - Tell Me a Story About That... A User Story Writing Workshop, Paul Hodgetts, Agile Logic
Wednesday, September 17 - TBD
Wednesday, October 15 - TBD
Wednesday, November 12 - TBD (note the change to the 2nd Wednesday to avoid Thanksgiving)
Wednesday, December 10 - The Fifth Annual AgileSoCal Holiday Bash!
All meeting start with food & networking at 6:00 PM, presentation starts at 6:30 PM, raffle follows the presentation.
Would you like to speak at AgileSoCal? Or do you know someone you'd like to see? Email us at agilesocal@gmail.com .
---
Past Meetings & Events
Here's a sample from past AgileSoCal meetings. Our meetings feature experienced agilistas and cutting-edge topics, and are highly interactive and engaging. Come join us at a future meeting!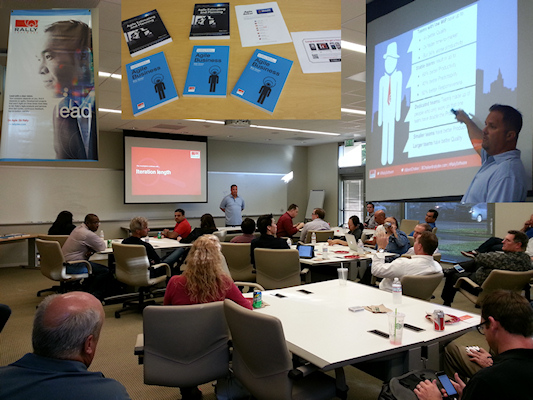 Wednesday, July 16 - The Impact of Agile Quantified - Brent Chalker, Rally Software
Click here to download the slides from this presentation (PDF - 3.5 MB).
Links to whitepapers and videos:
Seven Deadly Sins
SDPI Methods
Impact of SDPI
Youtube Videos of SDPI Metrics (5 videos)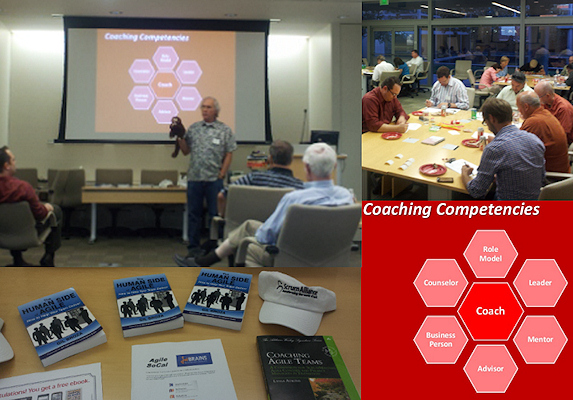 Wednesday, June 18 - The Agile Coaching Profession - Roger Brown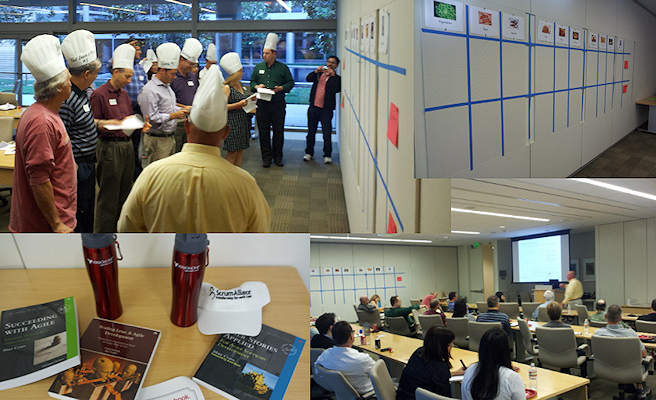 Wednesday, May 28 - Program Level Scrum Practices - Chris Waggoner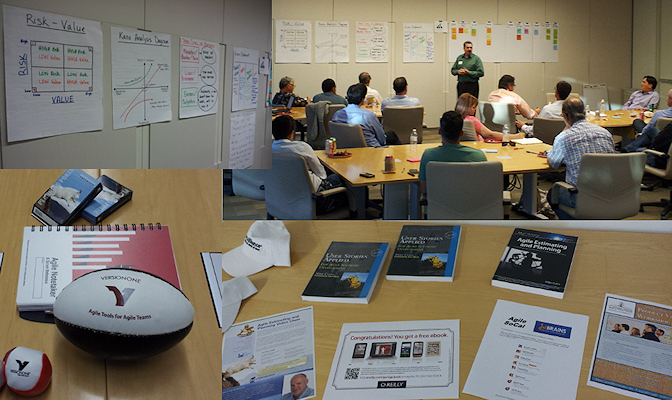 Wednesday, April 16 - The Value of Story Mapping - David Brown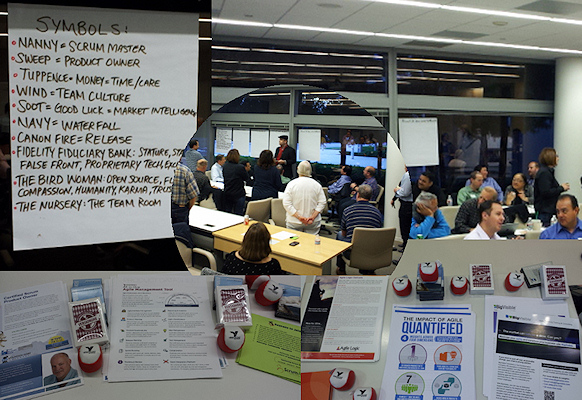 Wednesday, March 26 - A Spoon Full of Scrum - Jon Jorgensen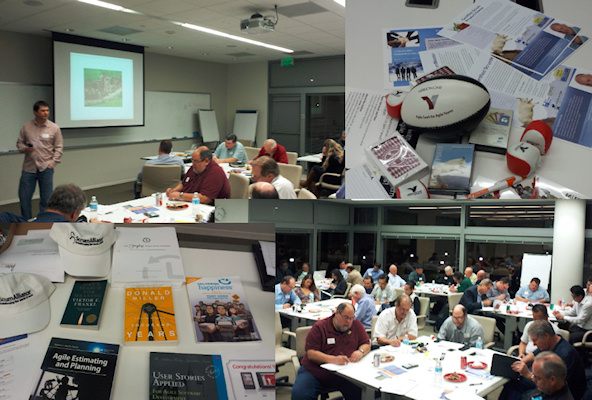 Thursday, February 20 - Agile Leader Storyline - Scott Dunn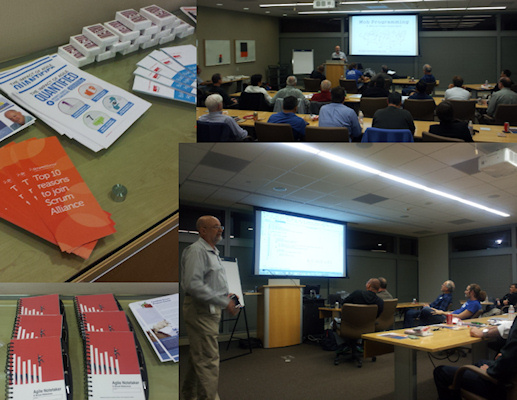 Wednesday, January 22 - Mob Programming - Woody Zuill & Friends
The 2013 AgileSoCal Holiday Bash on Wednesday, December 11, 2013 was an amazing event. You can check out photos and more by clicking here.
Click here for a full history of all AgileSoCal meetings.
---
Upcoming Agile Events Calendar
So Cal Local Agile User Group Meetings Calendar
Thursday, August 7, 6:00-7:30 PM
Agile San Diego
Summer Social
Location: Mitchell, San Diego
More Info: http://www.agilesandiego.org
Saturday, August 9, 9:45 AM (also Tue. 7/29, Sat. 8/9, Tue. 8/12)
Agile Coffee
Location: PICS, Irvine
More Info: http://www.meetup.com/agile-coffee/
Wednesday, August 27, 6:00-8:00 PM (Note the change to the 4th Wednesday)
AgileSoCal Monthly Evening Meeting
Location: The Capital Group, Irvine
More Info: http://www.agilesocal.com - Announcement coming soon!
Also watch for OC Product Managers, PDMA, PMI OC & LA, SCQAA-OC, Java/.NET user groups, LA Agile Meetup & other MeetUps, etc. to be announced…
Conferences & National/Regional Agile Events Calendar
Thursday-Friday, September 11-12, 2014
Agile Open California 2014 South
Location: UC Irvine Campus
More Info: http://www.agileopencalifornia.com/southern_ca.html
Thursday-Friday, October 9-10, 2014
Agile Open California 2014 North
Location: Collabnet, South San Francisco
More Info: http://www.agileopencalifornia.com/northern_ca.html
Tuesday, October 21, 2014
Agile DC 2014
Location: Kellogg Conference Center, Washington DC
More Info: http://agiledc.org/
Saturday-Sunday, October 25-26, 2014
So. Cal. Code Camp L.A.
Location: (not yet announced, probably UCLA campus)
More Info: http://www.socalcodecamp.com/
Tuesday-Thursday, October 28-30, 2014
Scrum Coaching Retreat
Location: Chapel Hill, NC
More Info: http://www.scrumalliance.org
Sunday-Friday, November 9-14, 2014
Agile Development Conference East
Location: Disney World, Orlando, FL
More Info: http://www.sqe.com/Conferences/