AgileSoCal Holiday Bash! - Wednesday, December 10th, 6:00 PM
Great News! We've just released a new block of tickets for the fifth annual AgileSoCal Holiday Bash!
You're cordially invited to the premier SoCal user group event. Our Bashes have become legendary and you won't want to miss this year's awesome party!

When: THIS WEDNESDAY, December 10, 6:00 PM
Where: BJ's Restaurant & Brewhouse, 13130 Jamboree Road, Irvine, CA
Cost: FREE!

Hurry! Reserve your ticket now through Eventbrite (please make sure you can attend):
https://www.eventbrite.com/e/agilesocal-2014-holiday-bash-tickets-14685878859

Free Food - BJ's fantastic gourmet pizzas, pasta, salads and more!
Free Drinks - Yes, that's right, BJ's awesome craft beers are on the house!
Fabulous Door Prizes:
iPad Mini
Mike Cohn Certified ScrumMaster & Certified Scrum Product Owner Course Registrations
$150 Agile Coach Camp Certificate
Amazon, California Pizza Kitchen, JT Schmid's & Starbucks Gift Cards
Selections from the Agile Book Shelf
Stockings Stuffed w/Agile Stuff
Come party with us and meet your fellow So. Cal. agilistas!

You must register and reserve a ticket through Eventbrite:
https://www.eventbrite.com/e/agilesocal-2014-holiday-bash-tickets-14685878859
Please make sure you can attend - there are limited spots available. If you find out you can't attend after all, please cancel your ticket via Eventbrite so we can open up the spot for folks on the waiting list.

This event is made possible through the very generous support of our amazingly awesome sponsors:
| | |
| --- | --- |
| | Mountain Goat Software (www.mountaingoatsoftware.com) - Mountain Goat Software specializes in helping companies adopt and improve their use of agile processes and techniques in order to build extremely high performance development organizations. Founder Mike Cohn is the author of three best-selling books on agile: Succeeding with Agile: Software Development Using Scrum, Agile Estimating and Planning and User Stories Applied for Agile Software Development. |
| | The Scrum Alliance (www.scrumalliance.org) - Become part of something bigger than you alone. Scrum Alliance brings together like-minded people who dream, explore and live project management brilliance every day. A nonprofit professional organization, we provide advocacy, community and education, equip our members and help them succeed with Scrum. Come sprint with us! |
| | Conscires Agile Practices (www.conscires.com) - Conscires' mission is to create transparent and collaborative organizations where employees are empowered to make their own decisions and take ownership for their work. Conscires Agile Practices helps you choose the right Agile adoption method, which we call Agile by Choice, through Agile Adoption Assessment, SCRUM Master Trainings, Advanced Workshops, Agile Coaching & Consulting. |
| | VersionOne (www.versionone.com) - Today more than 50,000 teams, including over 35 of the Fortune 100, use our products to help them scale their agile initiatives faster, easier, and smarter. Whether a small team just starting out with agile or a global enterprise, VersionOne customers get the best software tools in the industry. Agile Made Easier @VersionOne.com |
| | Rally Software (www.rallydev.com) - Rally Software provides leading software and services solutions that drive agility. Companies work with us to accelerate product innovation, improve development performance, and respond to evolving customer needs. |
| | Rocket Nine Solutions (www.rocketninesolutions.com) - Rocket Nine Solutions helps coach and train teams and provides guidance for companies transitioning to agile with Certified Scrum and Scaled Agile Framework training and coaching. Clients include Yahoo!, ServiceNow, Kaiser Permanente, Technicolor, FOX, eBay, GE Healthcare, Cisco, RIM and Level 3. |
| | Agile Logic (www.agilelogic.com) - Agile Logic has been helping companies deliver better software faster since 2001. Our unique approach to coaching, training & mentoring blends the best of lean and agile to reduce risk, maximize benefits and ensure continuous improvement. Lean, Kanban, Agile, Scrum, XP - we can help! |
AgileSoCal is your community for all things agile. Find us:
On our website at www.agilesocal.com (You are here!)
On Linked-In (group name "AgileSoCal") at www.linkedin.com/groups?gid=1833155
On Yahoo! Groups (group name "xpsocal") at tech.groups.yahoo.com/group/xpsocal/
On Twitter (timeline name "agilesocal") at twitter.com/agilesocal
---
Thanks to our ongoing sponsors:
---
Upcoming 2014 AgileSoCal Meetings
Meetings are usually held on the third Wednesday of each month. But not always, and dates may change, so watch for the announcements.
Wednesday, December 10 - The Fifth Annual AgileSoCal Holiday Bash!
2015 tentative meeting schedule: 1/21, 2/18, 3/18, 4/15, 5/20, 6/17, 7/15, 8/19, 9/16, 10/21 and 11/11, with the 2015 Bash 12/9
All meeting start with food & networking at 6:00 PM, presentation starts at 6:30 PM, raffle follows the presentation.
Would you like to speak at AgileSoCal? Or do you know someone you'd like to see? Email us at agilesocal@gmail.com .
---
Past Meetings & Events
Here's a sample from past AgileSoCal meetings. Our meetings feature experienced agilistas and cutting-edge topics, and are highly interactive and engaging. Come join us at a future meeting!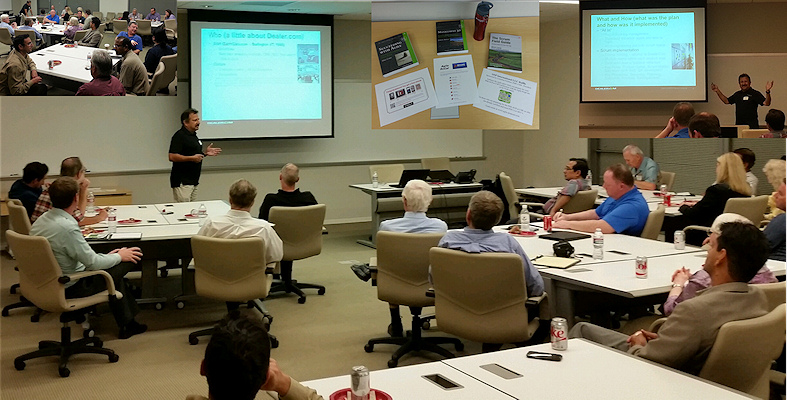 Wednesday, October 15, 2014 - A Company's Transformation to Agile: 1-year Retrospective, Ben Rodilitz, Dealer.com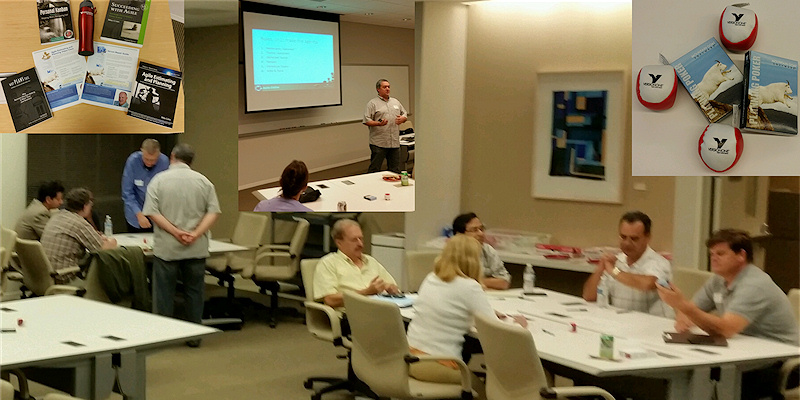 Wednesday, September 24, 2014 - Brewing Up Some Lean Coffee: A Collaborative Workshop, Victor Bonacci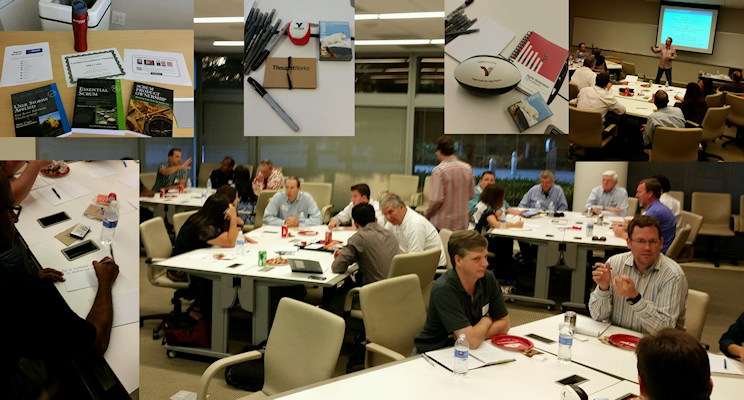 Wednesday, August 27, 2014 - Tell Me a Story About That... A User Story Writing Workshop, Paul Hodgetts, Agile Logic
Click here to download the slides from this presentation (PDF - 382 KB).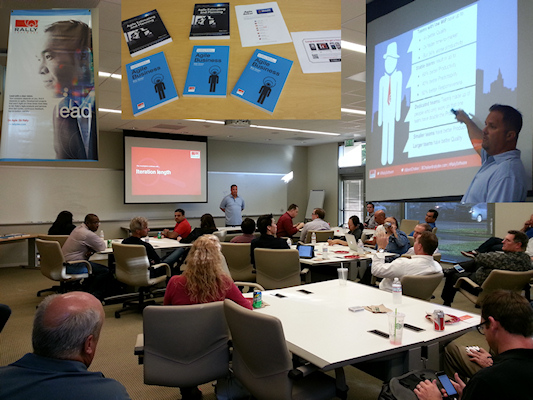 Wednesday, July 16, 2014 - The Impact of Agile Quantified - Brent Chalker, Rally Software
Click here to download the slides from this presentation (PDF - 3.5 MB).
Links to whitepapers and videos:
Seven Deadly Sins
SDPI Methods
Impact of SDPI
Youtube Videos of SDPI Metrics (5 videos)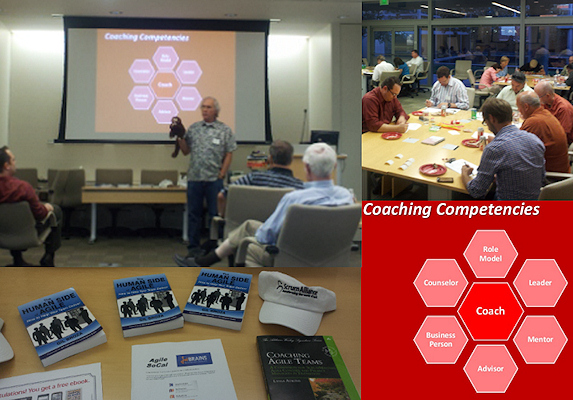 Wednesday, June 18, 2014 - The Agile Coaching Profession - Roger Brown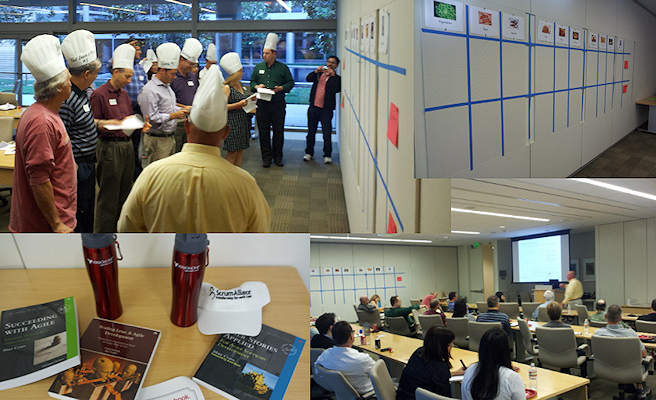 Wednesday, May 28, 2014 - Program Level Scrum Practices - Chris Waggoner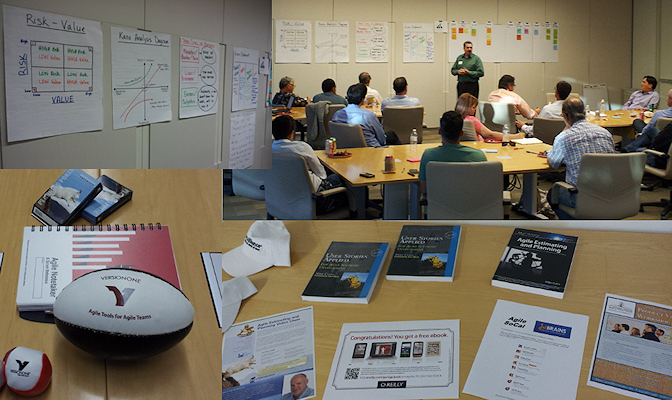 Wednesday, April 16, 2014 - The Value of Story Mapping - David Brown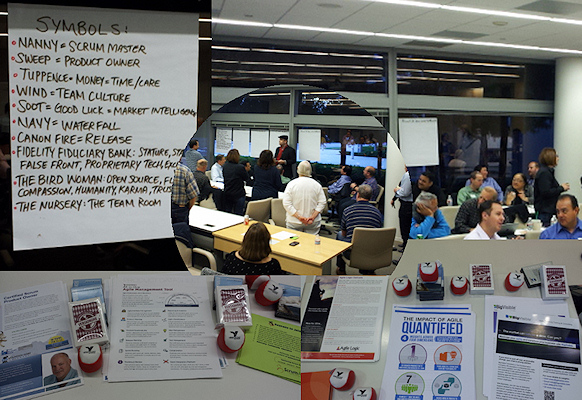 Wednesday, March 26, 2014 - A Spoon Full of Scrum - Jon Jorgensen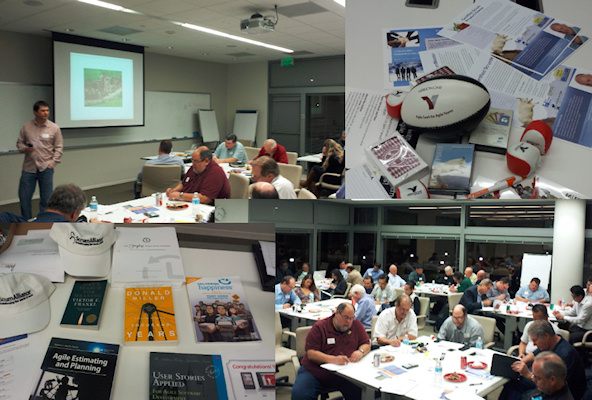 Thursday, February 20, 2014 - Agile Leader Storyline - Scott Dunn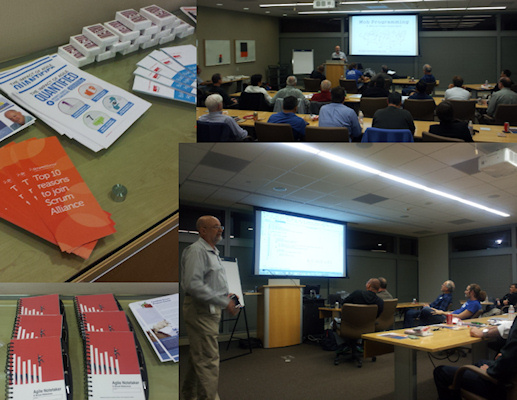 Wednesday, January 22, 2014- Mob Programming - Woody Zuill & Friends
The 2013 AgileSoCal Holiday Bash on Wednesday, December 11, 2013 was an amazing event. You can check out photos and more by clicking here.
Click here for a full history of all AgileSoCal meetings.
---
Upcoming Agile Events Calendar
So Cal Local Agile Events Calendar
Wednesday, November 26, 6:30 PM
vNext_OC – Mob Programming Night
Location: TEKsystems, Newport Beach
More Info: http://www.meetup.com/vNext-OrangeCounty
Thursday, December 4, 6:00-7:30 PM
Agile San Diego – No Estimates, Woody Zuill
Location: Mitchell, San Diego
More Info: http://www.agilesandiego.org
Wednesday, December 10, 6:00 PM
West Los Angeles Scrum & Agile Meetup - A New CSM's Work in Moving His Teams to Agile
Location: TBD
More Info: http://www.meetup.com/West-Los-Angeles-Scrum-Agile-Meetup/
Friday-Sunday, April 10-12, 2015 (registration opens Saturday, December 6, 2014)
Agile Coach Camp US West
Location: Irvine Ranch Outdoor Education Center, Orange
More Info: http://www.agilegathering.com
Also watch for OC Product Managers, PDMA, PMI OC & LA, SCQAA-OC, Java/.NET user groups, LA Agile Meetup & other MeetUps, etc. to be announced…
Regional & National Agile Events Calendar
Friday, November 21, 2014
AgilePalooza Dallas
Location: Addison Conference Center, Dallas
More Info: http://www.agilepalooza.com
Wednesday-Friday, February 11-13, 2015 (registration opens Thursday, November 20, 2014)
Agile Open Northwest
Location: Leftbank Annex, Portland
More Info: http://www.agileopennorthwest.org
Global Scrum Gathering: Phoenix May 4-6 2015, http://www.scrumalliance.org
Agile 2015: Washington DC August 3-7 2015, http://www.agilealliance.org