AgileSoCal Monthly Meeting - Wednesday, July 16th, 6:00 PM
The Impact of Agile Quantified
Brent Chalker, Technical Account Manager, Rally Software
How can we tell if an agile approach is actually working? How can we see the benefits and outcomes? What would be useful and appropriate things to look at?
Join us on Wednesday, July 16th, as Brent Chalker leads us in an exploration of measures and a framework we can use to help us assess the impact of our agile approach.
When: Wednesday, July 16th <-- Still the 3rd Wednesday!
Networking and food, 6:00 PM.
Activities start, 6:30 PM.

***** Always free, but YOU MUST RSVP to agilesocal@gmail.com !!! *****
The Impact of Agile Quantified
Though people have made Agile recommendations for many years, we have never been able to say how accurate they actually are, or how much impact a particular recommendation might make. Now, with the Software Development Performance Index, you can replace "Agile Intuition" with quantifiable Agile practices.
The SDPI framework includes a balanced set of outcome measures. These fall along the dimensions of responsiveness, quality, productivity and predictability, as well as softer aspects such as employee engagement, customer satisfaction and what we think of as a "Build-the-right-thing" metric.
Join us and learn how to:
- Double your productivity
- Improve quality by 250%
- Cut time-to-market in half
- Balance your team performance
Your Speaker:
Brent Chalker is a Technical Account Manager with Rally Software (www.rallydev.com ). He is a technology solutions specialist with over 20 years experience in architecting and supporting IT and ALM technologies, with areas of focus supporting the entire spectrum of ALM tooling and methodologies. Brent is a Certified Scrum Master and a Certified SAFe Consultant supporting Agile methodology for the development team through the program and portfolio enterprise. As a member of the Rally team, Brent is skilled at crafting Agile based solutions using Rally's Agile Collaboration platform. His passion lies in presenting and architecting solutions for a Scaled Agile model for large organizations executing an Agile Transformation.

Where: The Capital Group Companies
6455 Irvine Center Drive (Yosemite Building, 1st floor)
Irvine, CA 92618
Exit the 5 or 405 at Sand Canyon.
From the 5, go south to Irvine Center and turn right.
From the 405, go north to Irvine Center and turn left.
Take the first right into the main parking lot at Capital Group.
Park (no permit needed), go to the main entrance, look for the signs.

Thanks to Capital Group (www.thecapitalgroup.com) for the meeting facilities.
Thanks to Rally Software (www.rallydev.com) for the speaker, food and free agile stuff.
Thanks to BigVisible (www.bigvisible.com) for sponsoring our educational program.
Thanks to Mike Cohn (www.mountaingoatsoftware.com) for free agile books and stuff.
Thanks to JetBrains (www.jetbrains.com) for free tool licenses.
Thanks to O'Reilly (www.oreilly.com) for free e-books.

To be eligible for the drawing for free books and agile stuff YOU MUST RSVP to agilesocal@gmail.com and be present to win.

AgileSoCal is your community for all things agile. Find us:
On our website at www.agilesocal.com (You are here!)
On Linked-In (group name "AgileSoCal") at www.linkedin.com/groups?gid=1833155
On Yahoo! Groups (group name "xpsocal") at tech.groups.yahoo.com/group/xpsocal/
On Twitter (timeline name "agilesocal") at twitter.com/agilesocal
---
Thanks to our ongoing sponsors:
---
Upcoming 2014 AgileSoCal Meetings
Meetings are usually held on the third Wednesday of each month. But not always, and dates may change, so watch for the announcements.
Wednesday, August 27 - TBD (note the change to the 4th Wednesday)
Wednesday, September 17 - TBD
Wednesday, October 15 - TBD
Wednesday, November 12 - TBD (note the change to the 2nd Wednesday to avoid Thanksgiving)
Wednesday, December 10 - The Fifth Annual AgileSoCal Holiday Bash!
All meeting start with food & networking at 6:00 PM, presentation starts at 6:30 PM, raffle follows the presentation.
Would you like to speak at AgileSoCal? Or do you know someone you'd like to see? Email us at agilesocal@gmail.com .
---
Past Meetings & Events
Here's a sample from past AgileSoCal meetings. Our meetings feature experienced agilistas and cutting-edge topics, and are highly interactive and engaging. Come join us at a future meeting!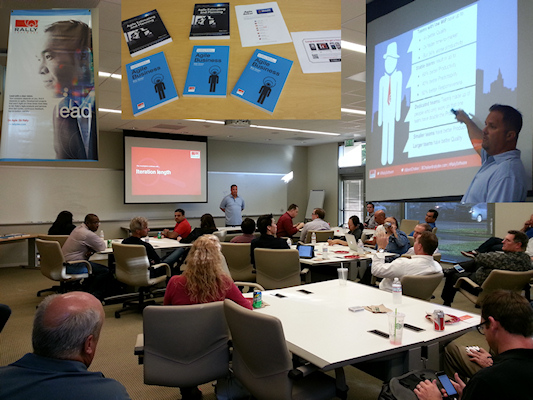 Wednesday, July 16 - The Impact of Agile Quantified - Brent Chalker, Rally Software
Click here to download the slides from this presentation (PDF - 3.5 MB).
Links to whitepapers and videos:
Seven Deadly Sins
SDPI Methods
Impact of SDPI
Youtube Videos of SDPI Metrics (5 videos)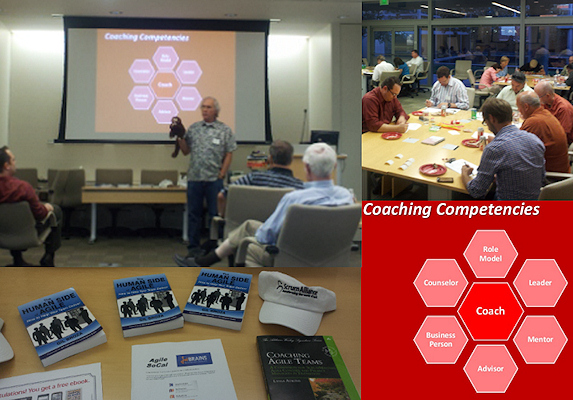 Wednesday, June 18 - The Agile Coaching Profession - Roger Brown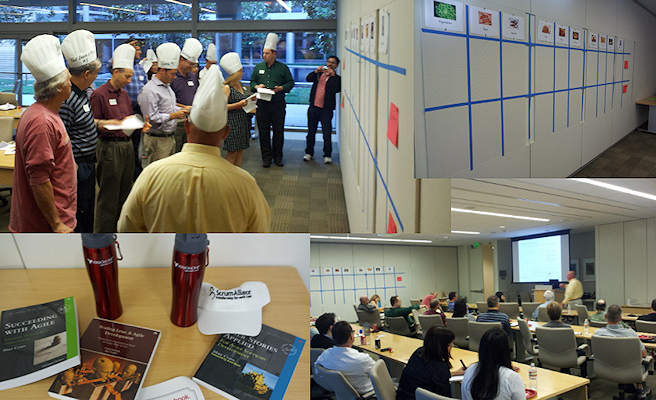 Wednesday, May 28 - Program Level Scrum Practices - Chris Waggoner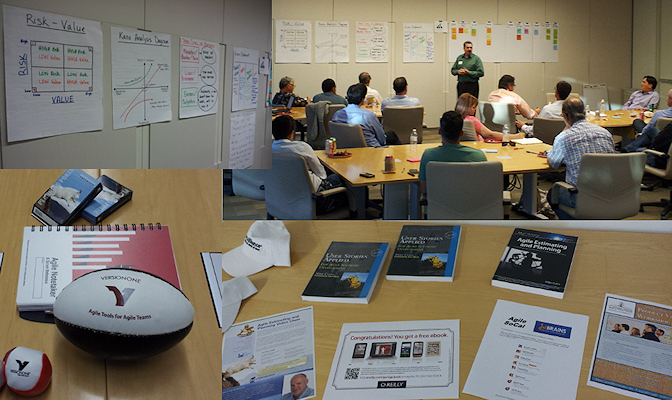 Wednesday, April 16 - The Value of Story Mapping - David Brown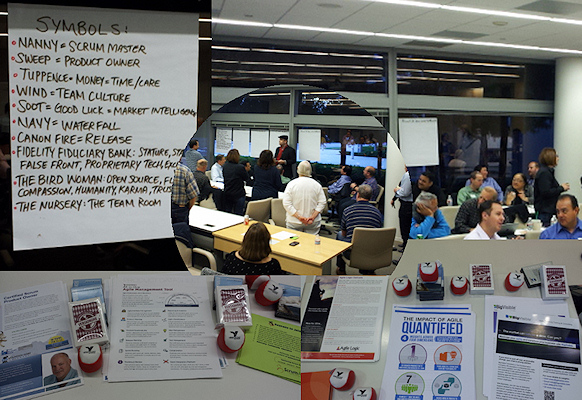 Wednesday, March 26 - A Spoon Full of Scrum - Jon Jorgensen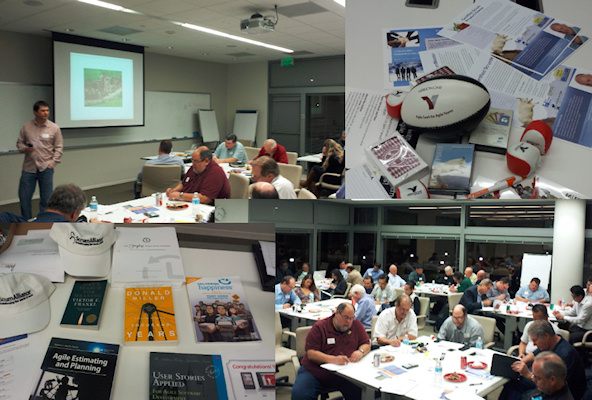 Thursday, February 20 - Agile Leader Storyline - Scott Dunn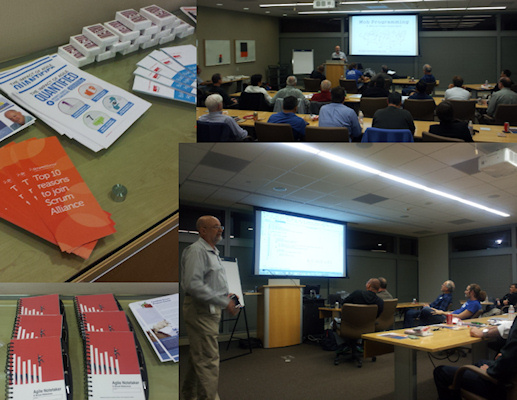 Wednesday, January 22 - Mob Programming - Woody Zuill & Friends
The 2013 AgileSoCal Holiday Bash on Wednesday, December 11, 2013 was an amazing event. You can check out photos and more by clicking here.
Click here for a full history of all AgileSoCal meetings.
---
Upcoming Agile Events Calendar
So Cal Local Agile User Group Events Calendar
Saturday, July 26, 9:45 AM (also Tue. 7/29, Sat. 8/9, Tue. 8/12)
Agile Coffee
Location: Paradise Perks, Irvine (Tuesday evenings at PICS, Irvine)
More Info: http://www.meetup.com/agile-coffee/
Thursday, August 7, 6:00-7:30 PM
Agile San Diego
Summer Social
Location: Mitchell, San Diego
More Info: http://www.agilesandiego.org
Wednesday, August 27, 6:00-8:00 PM (Note the change to the 4th Wednesday)
AgileSoCal Monthly Evening Meeting
Location: The Capital Group, Irvine
More Info: http://www.agilesocal.com - Announcement coming soon!
Also watch for OC Product Managers, PDMA, PMI OC & LA, SCQAA-OC, Java/.NET user groups, LA Agile Meetup & other MeetUps, etc. to be announced…
Conferences & National/Regional Agile Events Calendar
Monday-Friday, July 28-August 1, 2014
Agile 2014
Location: Gaylord Palms Resort, Orlando, FL
More Info: http://agilealliance.org/
Thursday-Friday, September 11-12, 2014
Agile Open California 2014 South
Location: UC Irvine Campus
More Info: http://www.agileopencalifornia.com/southern_ca.html
Thursday-Friday, October 9-10, 2014
Agile Open California 2014 North
Location: Collabnet, South San Francisco
More Info: http://www.agileopencalifornia.com/northern_ca.html
Tuesday, October 21, 2014
Agile DC 2014
Location: Kellogg Conference Center, Washington DC
More Info: http://agiledc.org/
Tuesday-Thursday, October 28-30, 2014
Scrum Coaching Retreat
Location: Chapel Hill, NC
More Info: http://www.scrumalliance.org
Sunday-Friday, November 9-14, 2014
Agile Development Conference East
Location: Disney World, Orlando, FL
More Info: http://www.sqe.com/Conferences/