AgileSoCal Monthly Meeting - Wednesday, April 16th, 6:00 PM
The Value of Story Mapping
David Brown
Agile teams can struggle maintaining a vision of their product's big-picture goals, especially when there's often a lot of emphasis on short-term sprint objectives.
Join us on Wednesday, April 16th, as experienced agilista David Brown leads us in an interactive workshop where you'll learn how to build a story map that will help your teams more effectively explain your sytem, prioritize, and plan your releases.
Our apologies for the short notice this month.
When: Wednesday, April 16th <-- Back to the 3rd Wednesday!
Networking and food, 6:00 PM.
Activities start, 6:30 PM.

***** Always free, but YOU MUST RSVP to agilesocal@gmail.com !!! *****
The Value of Story Mapping
In this hands-on session, you will experience how to build story maps that will help your teams:
- Accomplish meaningful release and sprint planning;
- Clearly visualize your entire complex backlog;
- Target areas for backlog refinement;
- Prioritize; and
- Explain your product deliverables to stakeholders.
This is an interactive session, so be prepared to sling lots of Post-Its as you learn this tool first-hand!
Your Speaker:
David Brown has more than 20 years experience leading software projects in the healthcare and real estate industries. He has led teams from start-ups to Fortune 500s and is passionate about improving the business and customer experience by adding value wherever possible. In his current position as IT Director in the Title Product Group at First American Database Title, he mentors individuals and leads teams in building applications to serve the real estate title and settlement services space.
David is a Certified ScrumMaster, Certified Scrum Product Owner, Certified Project Management Professional, and ITIL v2 Foundations certified. He has been a presenter and panelist at the Orange County chapters of AgileSoCal, Agile Leadership Network and Rally's 'Rally on the Rocks.'

Where: The Capital Group Companies
6455 Irvine Center Drive (Yosemite Building, 1st floor)
Irvine, CA 92618
Exit the 5 or 405 at Sand Canyon.
From the 5, go south to Irvine Center and turn right.
From the 405, go north to Irvine Center and turn left.
Take the first right into the main parking lot at Capital Group.
Park (no permit needed), go to the main entrance, look for the signs.

Thanks to Capital Group (www.thecapitalgroup.com) for the meeting facilities.
Thanks to VersionOne (www.versionone.com) for the food and free agile stuff.
Thanks to BigVisible (www.bigvisible.com) for sponsoring our educational program.
Thanks to Mike Cohn (www.mountaingoatsoftware.com) for free agile books and stuff.
Thanks to Rally Software (www.rallydev.com) for free agile stuff.
Thanks to JetBrains (www.jetbrains.com) for free tool licenses.
Thanks to O'Reilly (www.oreilly.com) for free e-books.

To be eligible for the drawing for free books and agile stuff YOU MUST RSVP to agilesocal@gmail.com and be present to win.

AgileSoCal is your community for all things agile. Find us:
On our website at www.agilesocal.com (You are here!)
On Linked-In (group name "AgileSoCal") at www.linkedin.com/groups?gid=1833155
On Yahoo! Groups (group name "xpsocal") at tech.groups.yahoo.com/group/xpsocal/
On Twitter (timeline name "agilesocal") at twitter.com/agilesocal
---
Thanks to our ongoing sponsors:
---
Upcoming 2014 AgileSoCal Meetings
Meetings are usually held on the third Wednesday of each month. But not always, so watch for the announcements.
Wednesday, May 21 - TBD
Wednesday, June 18 - TBD
Wednesday, July 16 - TBD
Wednesday, August 20 - TBD
Wednesday, September 17 - TBD
Wednesday, October 15 - TBD
Wednesday, November 12 - TBD (note the change to the 2nd Wednesday to avoid Thanksgiving)
Wednesday, December 10 - The Fifth Annual AgileSoCal Holiday Bash!
All meeting start with food & networking at 6:00 PM, presentation starts at 6:30 PM, raffle follows the presentation.
Would you like to speak at AgileSoCal? Or do you know someone you'd like to see? Email us at agilesocal@gmail.com .
---
Past Meetings & Events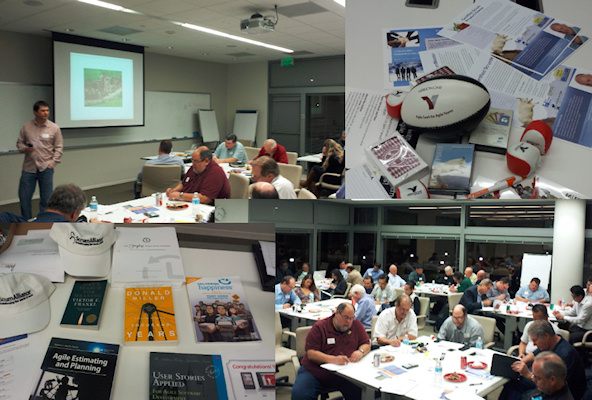 Thursday, February 20 - Agile Leader Storyline - Scott Dunn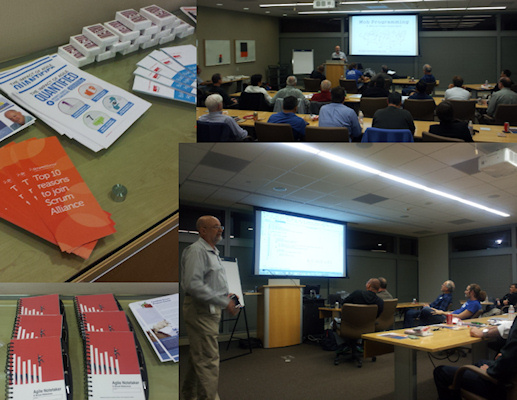 Wednesday, January 22 - Mob Programming - Woody Zuill & Friends
The 2013 AgileSoCal Holiday Bash was an amazing event. You can check out photos and more by clicking here.