AgileSoCal Monthly Meeting - Wednesday, July 15th, 6:00 PM
(Still on the 3rd Wednesday!)
Make Flowers! A Story-point Estimation Game

with Suma Kumar
When: Wednesday, July 15th <-- Still on the 3rd Wednesday!
Networking and food, 6:00 PM.
Activities start, 6:30 PM.

***** Always free, but YOU MUST RSVP to agilesocal@gmail.com !!! *****
Make Flowers! A Story-point Estimation Game
Have you been faced with the challenge of explaining how to do Story-point estimation to people who have done estimation for years using time-based methods such as number of hours or days? Do you find it difficult to understand Story Point estimation and release planning in Story Points? How can we possibly know how long a project will take using a metric that doesn't correspond to time?
Learn to make Flowers with us and Suma Kumar will teach you Story Point Estimation and Release Planning.
Your Presenter:
Suma Kumar is an Agile Coach, Trainer and Mentor, and comes with 17 years of experience in the IT industry. A traditional waterfall program manager with years of experience, she discovered Agile very recently and transitioned from being a skeptic to an ardent advocate and evangelist. She specializes in coaching teams transitioning from waterfall to Agile using Gamification. Training is her passion and learning is her caffeine. And she is here to share some of the tricks she has devised. She is an avid traveler and hiker and waiting for an opportunity to hike and camp across the United States this Summer :)

Where: The Capital Group Companies
6455 Irvine Center Drive (Yosemite Building, 1st floor)
Irvine, CA 92618
Exit the 5 or 405 at Sand Canyon.
From the 5, go south to Irvine Center and turn right.
From the 405, go north to Irvine Center and turn left.
Take the first right into the main parking lot at Capital Group.
Park (no permit needed), go to the main entrance, look for the signs.

Thanks to Capital Group (www.thecapitalgroup.com) for the meeting facilities.
Thanks to VersionOne (www.versionone.com) for food and free agile stuff.
Thanks to SolutionsIQ (www.solutionsiq.com) for sponsoring our educational program.
Thanks to Mike Cohn (www.mountaingoatsoftware.com) for agile e-courses, agile books and stuff.
Thanks to OSP International (www.agile-prepcast.com) for free The Agile PrepCast registration.
Thanks to Rally Software (www.rallydev.com) for free agile stuff.
Thanks to Conscires Agile Practices (www.conscires.com) for sponsoring the Bash.
Thanks to JetBrains (www.jetbrains.com) for free tool licenses.
Thanks to O'Reilly (www.oreilly.com) for free e-books.

To be eligible for the drawing for free books and agile stuff YOU MUST RSVP to agilesocal@gmail.com 24 hours prior to the meeting and be present to win.

AgileSoCal is your community for all things agile. Find us:
On our website at www.agilesocal.com (You are here!)
On Linked-In (group name "AgileSoCal") at www.linkedin.com/groups?gid=1833155
On Yahoo! Groups (group name "xpsocal") at tech.groups.yahoo.com/group/xpsocal/
On Twitter (timeline name "agilesocal") at twitter.com/agilesocal
---
Thanks to our ongoing sponsors:
---
Upcoming 2015 AgileSoCal Meetings
Meetings are usually held on the third Wednesday of each month. But not always, and dates may change, so watch for the announcements.
Wednesday, June 17 - The Agile Manifesto in the Star Wars Universe, Aaron Griffith
Wednesday, July 15 - Story Point Estimation Game, Suma Kumar
Wednesday, August 19 - VersionOne 9th annual State of Agile survey results
Wednesday, September 16 - TBD
Wednesday, October 21 - TBD
Wednesday, November 11 - TBD <- Note the second Wednesday to avoid the holiday!
Wednesday, December 9 - The Sixth Annual AgileSoCal Holiday Bash!
All meeting start with food & networking at 6:00 PM, presentation starts at 6:30 PM, raffle follows the presentation.
Would you like to speak at AgileSoCal? Or do you know someone you'd like to see? Email us at agilesocal@gmail.com .
---
Past Meetings & Events
Here's a sample from past AgileSoCal meetings. Our meetings feature experienced agilistas and cutting-edge topics, and are highly interactive and engaging. Come join us at a future meeting!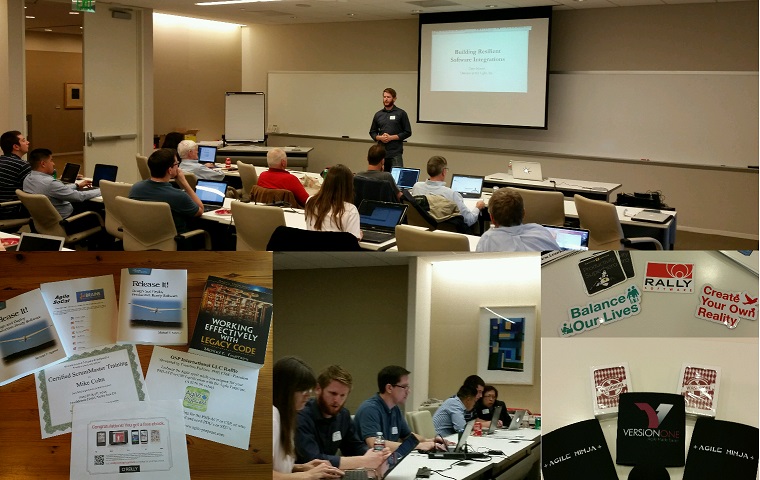 Wednesday, March 19, 2015 - Building Resilient Software Integrations: Dave Moore, 8th Light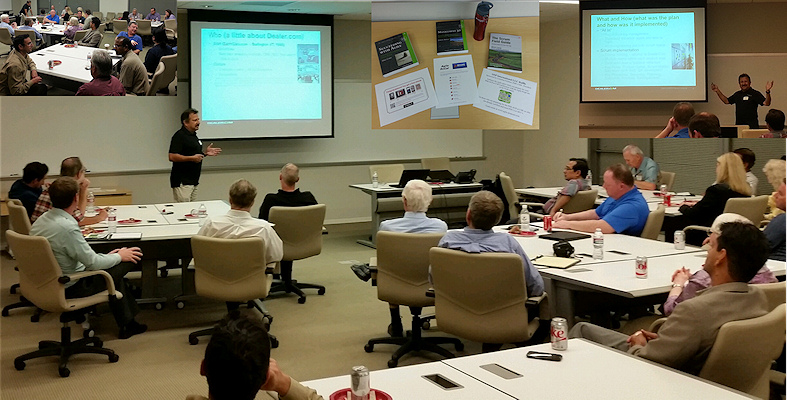 Wednesday, October 15, 2014 - A Company's Transformation to Agile: 1-year Retrospective, Ben Rodilitz, Dealer.com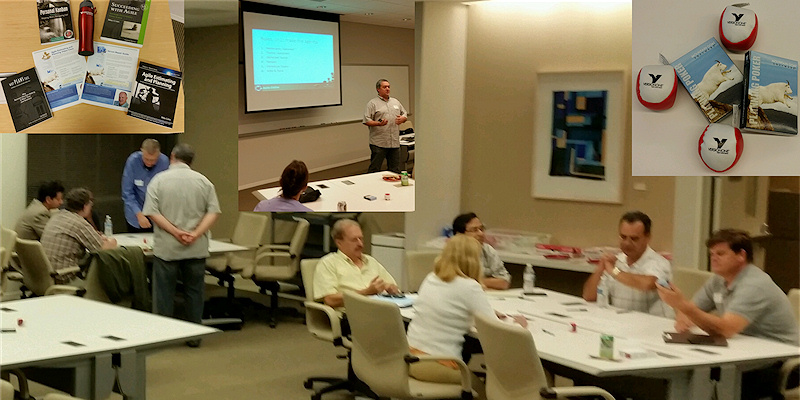 Wednesday, September 24, 2014 - Brewing Up Some Lean Coffee: A Collaborative Workshop, Victor Bonacci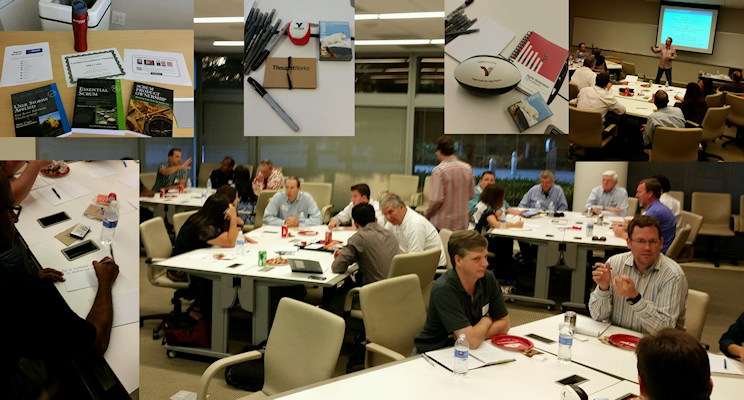 Wednesday, August 27, 2014 - Tell Me a Story About That... A User Story Writing Workshop, Paul Hodgetts, Agile Logic
Click here to download the slides from this presentation (PDF - 382 KB).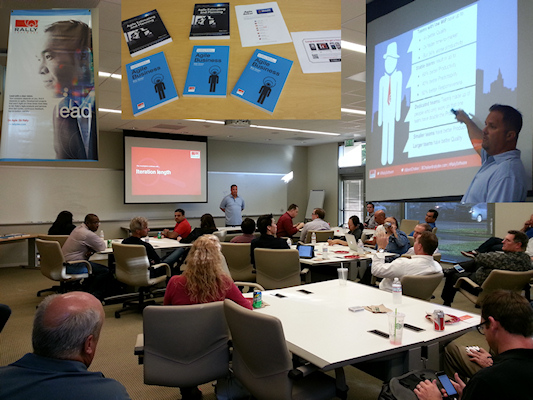 Wednesday, July 16, 2014 - The Impact of Agile Quantified - Brent Chalker, Rally Software
Click here to download the slides from this presentation (PDF - 3.5 MB).
Links to whitepapers and videos:
Seven Deadly Sins
SDPI Methods
Impact of SDPI
Youtube Videos of SDPI Metrics (5 videos)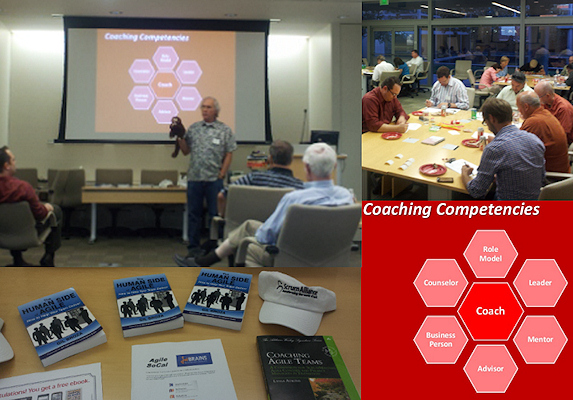 Wednesday, June 18, 2014 - The Agile Coaching Profession - Roger Brown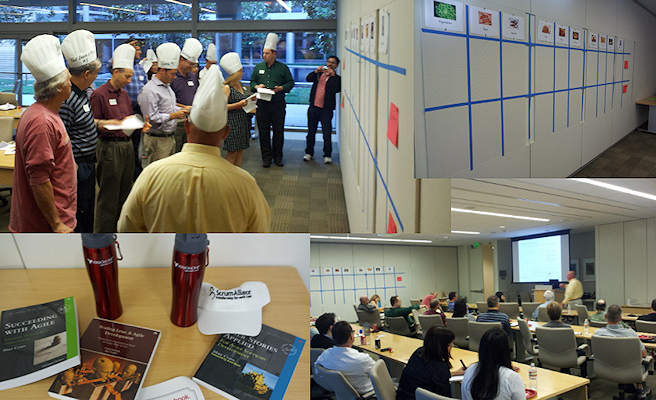 Wednesday, May 28, 2014 - Program Level Scrum Practices - Chris Waggoner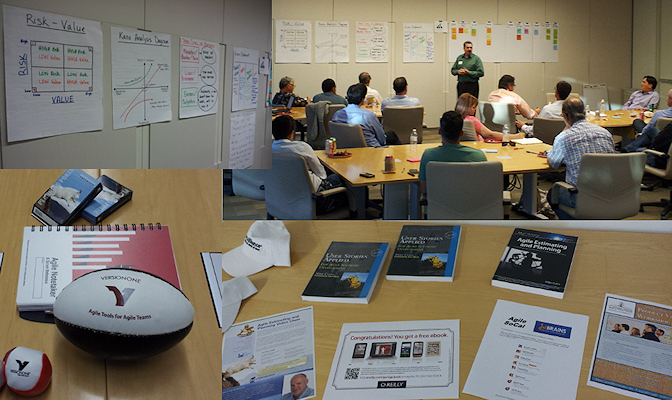 Wednesday, April 16, 2014 - The Value of Story Mapping - David Brown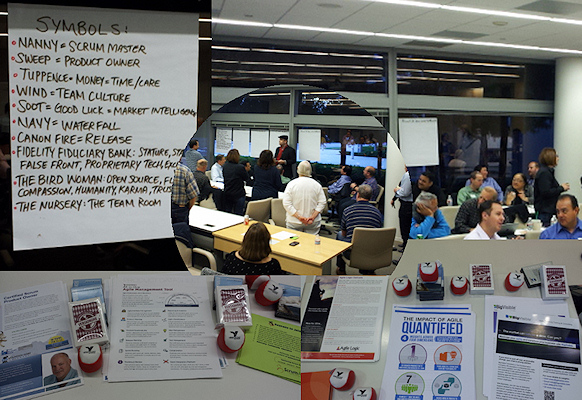 Wednesday, March 26, 2014 - A Spoon Full of Scrum - Jon Jorgensen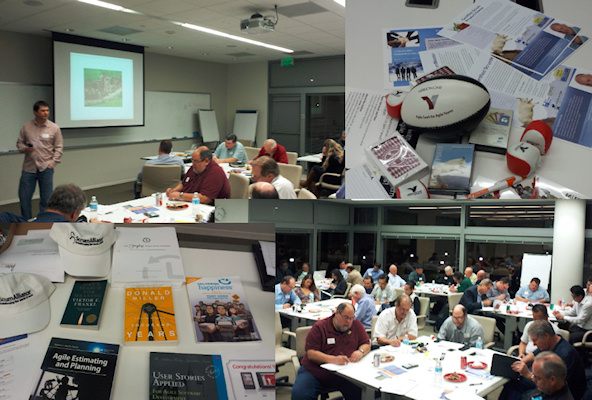 Thursday, February 20, 2014 - Agile Leader Storyline - Scott Dunn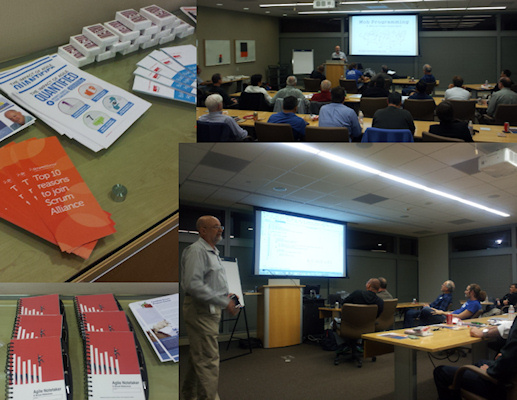 Wednesday, January 22, 2014- Mob Programming - Woody Zuill & Friends
The 2013 AgileSoCal Holiday Bash on Wednesday, December 11, 2013 was an amazing event. You can check out photos and more by clicking here.
Click here for a full history of all AgileSoCal meetings.
---
Upcoming Agile Events Calendar
So Cal Local Agile Events Calendar
Thursday-Friday, September 10-11
Agile Open Southern California
Location: UCI
More Info: Agile Open California
Monday-Tuesday, August 24-25
Certified ScrumMaster course with Mike Cohn
Location: Doubletree Santa Ana
More info: https://www.mountaingoatsoftware.com/
Wednesday-Thursday, August 26-27
Certified Scrum Product Owner course with Mike Cohn
Location: Doubletree Santa Ana
More info: https://www.mountaingoatsoftware.com/
Also watch for OC Product Managers, PDMA, PMI OC & LA, SCQAA-OC, Java/.NET user groups, LA Agile Meetup & other MeetUps, etc. to be announced…
Regional & National Agile Events Calendar
Saturday, August 1
Agile Coach Camp East 2015
Location: Washington DC
More Info: http://agilecoachcamp.org/
Monday-Friday, August 3-7
Agile 2015
Location: Gaylord National Resort, Washington, DC
More Info: http://agile2015.agilealliance.org/